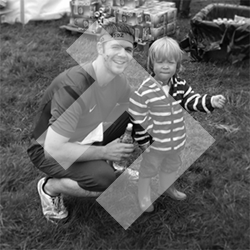 Hi, my name is Paul Stainthorpe. Father Fitness is my own personal fitness journey from becoming a first-time Father and to regaining my fitness.
I've always been sport mad from an early age. Playing football, basketball and tennis are just some of the sports I used to love and play. When I hit my mid 20′s, I'd let myself slide. I wasn't doing anywhere near as much sport and my routine wasn't consistent enough. I was eating too much of the wrong things and drinking far too much alcohol. Does my story sound familiar?
Since the birth of my son in 2009, I changed my life. I'm now a fit and healthy Father and I'm trying to set the perfect example to both my kids. I love being able to play football with Adam and chase him around in the back garden. Obviously some medical conditions are out of your hands but I want to try and add years to my life. If you have the chance to improve your health, then why not?
I owe a lot to my friend Deano Moore. He personally trained and introduced me to a new way of thinking. He concentrated on using ideas and methods from the teachings of Paul Chek, Chuck Wolf, Dax Moy, Charles Poliquin, Martin Rooney, Phil Richards and many more. He introduced me to so many things like the TRX and a personal favourite, kettlebells. My training these days also features boxing, running and traditional weight training. I also founded a free online health and fitness website with Deano back in 2010 called 4Ever Fitness.
I've completed several events over the years including several parkruns (50+), the Pier to Pier, Total Warrior, Newcastle Stampede, the Blaydon Races, the Bamburgh 10k and the Hamsterley 10k.
I completed my 12 Days of Christmas charity challenge for Percy Hedley in 2012. This was my first real attempt at raising money for charity. It was tough but the help and support from so many people, we did it!
I attempted to run 12 parkruns in one day at the end of 2013. It was run with my friend Lee Nyland and we called the challenge, the '12 parkruns of Christmas.' Unfortunately after the 11th parkrun I collapsed and was rushed to the RVI in Newcastle, the home of the supported charity Tiny Lives. I've said it before and I'll say it again. As I'm getting older, I'm realising the importance more and more of giving something back.
I also write for several other health and fitness blogs such as Shout Fitness, Full Stride and Loxley Sports. I'd appreciate your support by checking them all out!
Thanks for reading and I hope to speak to you soon!