When it comes to my own health and fitness, it's like watching my favourite film of all time, Back to the Future. By that I mean, I'm fitter in some months than others. When I've had a bad month, I wish I could go back in time to when I was fitter and healthier.
So my obsession with Back to the Future doesn't stop here. I called my business Hill Valley Creative after the fictional town! My office (where I'm sat right now) is literally covered in posters and props from the movie. Last October, I even dressed up like Marty McFly to celebrate Back to the Future day. Like I say, it's an obsession.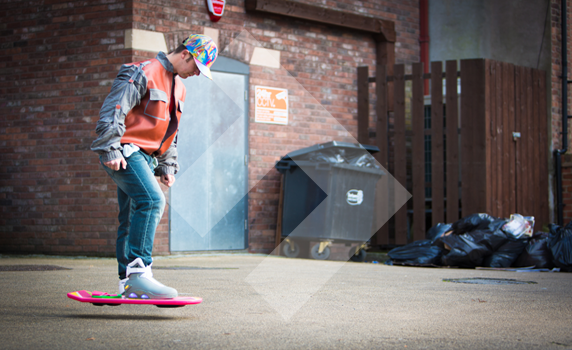 I own all three models of the Delorean and looking at these got me thinking about the future. I came across this really cool graphic the other day, which talks about the future of transport. Technology in general and how the Back to the Future concept are all connected when it comes to the field of health and fitness.
Take the Delorean for example, it's a classic car design yet full of futuristic and modern gadgets. These allow the car to progress through time. If we take a look at our own bodies for a second – it's a complex machine yet by exercising regularly and eating a balanced diet, we will simply maintain a healthy lifestyle. Now throw in all the modern gadgets such as activity trackers and apps, we are very similar to the Delorean from Back to the Future.
I hear people saying all the time, "this fitness gadget is a waste of money!" and "I would never pay that!" but if these gadgets and technology are helping you, then surely you can't put a price on health and fitness? I know from past experience, you don't use a piece of equipment all the time so it may stand around gathering dust for a few days or even weeks. I'm a firm believer though, that even if something helps in a small way, it's worth investing time and money into it.
I released an exercise calendar recently, which has always helped with my motivation. This is a free download and it's an 'old school' pen and paper technique. So there's nothing futuristic or clever about this idea but it works! Mutha Fitness and I used to wear Fitbits, these weren't cheap but they helped us massively in achieving 10,000 steps a day. This is the recommended figure from the NHS.
Does your health and fitness have similarities to Back to the Future? If so, then great! You can't be good all of the time and it's impossible without sacrifice. I recently wrote this and stated "I want to get myself in the best shape of my life." I'm about six weeks in and I'm starting to realise just how tough that statement was. It's easy to say stuff but to actually achieve it are two separate things. I'm not giving up yet though! Like I said, it's an experiment.
An old school friend called Steven sent me a tweet the other day saying "If you find a training activity you enjoy, you're more likely to stick with it." Of course, he's absolutely right and it reminded me that I'd not mentioned in that post about how much I'm enjoying my training right now. I love every second of the gym and it's like the good old days. Every last rep is the toughest thing I've ever done yet the satisfaction is beyond words. I'm starting to see physical changes too, which is always a good motivational tool.
I realise I'm rabbiting on now so I'll leave you with these points:
Think about how technology can help you achieve your goals
Don't worry about how good you looked or felt in the past, work towards the future
Download my free exercise calendar!
Thanks for reading,