What a difference a week makes! The bamburgh 10k was second on my list of runs to do this year. It looked a great run and I've been looking forward to it all year.
Our house extension starts soon so no holiday for us this year I'm afraid. I also work for myself so two weeks away would be impossible to manage. I suggested to Amy that maybe we should make a weekend of it. It ended up being an extended weekend away and one of the best holidays I've had. We set off for Seahouses on the Friday afternoon and the plan was to visit Bamburgh, Holy Island and Alnmouth. I think we hit the best weekend of the year so far, it was bloody gorgeous.
Having the Bamburgh 10k at 9:30am mean't even after going back to the cottage to have a shower, we still arrived at Holy Island for lunchtime. My plan for this run was simple, just enjoy it. I needed to inject that back into my running and remind myself that I'm not a serious runner. I'd say I'm an ok runner standard wise but my arse is far too big to ever be classed as a good runner!
We arrived at Bamburgh with plenty of time to spare. A quick visit to the pavilion to pick up my number and then I headed towards the castle to the starting area. I had 20 minutes or so to kill so I just stared out to sea. What a view, it was unbelievable. As I looked around there were maybe 200 other runners, all looking very slim and most of them were attached to running clubs. I instantly thought I'd be finishing near the back but it didn't bother me. I was here for two reasons – to enjoy it and to be stitch free. The run started on time and we headed away from the castle and through the town. The pic below was taken by Amy. As you can see I'm out in the lead, haha!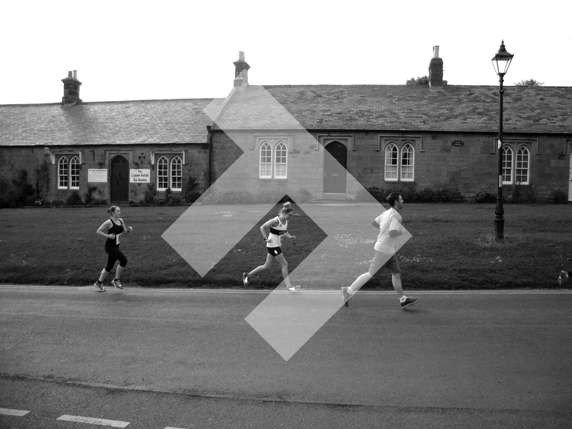 I probably took the first 6k at around 5 minutes each. I needed to break that 3-5k mark without getting a stitch and I succeeded. The route up to this point was great. A few gentle inclines and country lanes. I was glad I took my hay fever tablets, that's for sure! The sun was warm but nothing like Blaydon. I'd also remembered to put suncream on my forehead. I probably started off middle of the pack and gradually picked up my pace as the run went on.
It was around the 6k mark we got water and headed towards the main road back into Bamburgh. It's a coastal road so even though the sun was warm you still got a lovely breeze as you were running. I was also back to wearing my compression top again. I'd chosen to not wear it at Blaydon for some reason but I love running in it as it keeps my body temperature cool and wicks the sweat away. Sometimes my eczema flares up and can make it uncomfortable when running.
I must admit once we hit the main road, Bamburgh castle looked miles away! I knew it wasn't but it still looked it. I felt comfortable and strong so I knew I just needed to get my head down and graft. If I kept up the steady 5 minute k's, I'd get a time of 50 minutes. I had it in my head that I wanted to break the 50 minute mark. For two reasons really – I knew I could do it and 50 minutes would have been my time at Blaydon (if it had been a 10k run). I'd managed to move up a fair few positions over the first 7k then I spotted a lass in front of me who seemed to be running at a similar pace. Great! I knew if I stuck with her, I'd be all right. She was wearing a Tyne Bridge Harriers vest so I knew she'd know her stuff. We continued to pick up places and the castle was getting closer and closer.
By my SportWatch we crossed the line just over the 48 minute mark, fantastic! I could see Amy and my family supporting. As you can see in the main picture above (the colour one), Adam was sitting right at the front on a cone. I can't tell you how good a feeling it is to have your family there to support you. I know they enjoy coming out and with the Bamburgh 10k, we got a holiday too!
There were 173 runners that took part that day and I finished 60th. I was already ecstatic to have finished stitch-free and get a decent time but when I realised my position, I couldn't stop grinning! I'm never going to be a great runner, I just don't run enough for that. Most weeks the only running I do is a 5k parkrun but that's my training routine. My official time was 48.37, very happy with that and I'll hopefully aim to beat it next year. I can't imagine I'd shave much off that time (if any at all) but if I put the work in, maybe just under 48 minutes could be a realistic target.
Also scanning the results I found out the lass in front of me was called Julie Shaw. Thank-you Julie was keeping your pace consistent with mine! I'm not sure if any of my running buddies are in the Tyne Bridge Harriers but if you are, tell her thanks from me. I also spotted my old MD Brian had ran Bamburgh too. Unfortunately I didn't see him on the day but I emailed him yesterday and he loved it!
Putting my time and being stitch-free to one side, my conclusion of the Bamburgh 10k is that it's been my favourite run to date. The Pier to Pier is great too but I think the mileage is still a tad too far for me, even though I didn't struggle this year. I definitely have a thing for coastal runs though! Are there any more out there? The Bamburgh 10k was extremely well organised and the scenery was fantastic. Having a similar number of runners as parkrun was good too as you could quickly establish your own pace and have room around you. I'd like to thank the guys at Run Northumberland for having me and putting on a great run, top job.
I'll see you next year Bamburgh 10k, that's a definite. I have the Hamsterly 10k next on July the 7th. Bring it on.