One thing I've learnt from training in general is that just because you train, doesn't mean you're training right. The body is a complex machine and small adjustments can lead to massive changes. That statements leads perfectly onto my latest review of SHFT.
Using a system of intelligent pods, SHFT accurately measures and analyses your running style. It turns this data into live feedback and coaches you as you run. What will that achieve I hear you cry! It will turn you into a faster, safer and happier runner. It's also an excellent motivator. It worked for me! SHFT is one of the first personal virtual running coaches around. SHFT is developed by leading Professors, Doctors, PhD's, Professional Running Coaches, Elite Runners, Sports Scientists, Mathematicians, Data Scientists, and Developers. I was honoured to be asked to try SHFT.
Personally, I've been steadily increasing my running over the past 3-4 weeks. This is due to a family holiday that involves a swimming pool, haha! My Mrs has even joined me twice a week for two miles a run, so four miles a week. She's never been into running that much so I was delighted to have her by my side. This review of SHFT has come at a great time as I'm always looking for motivation while running.
The SHFT system arrived in a lovely presentation box. It was so nice I've included a picture of it below!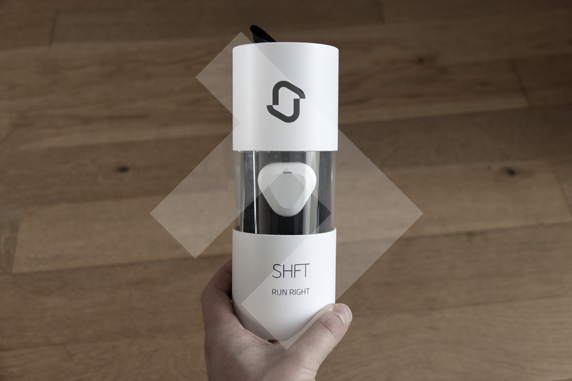 I immediately searched for something SHFT related on Vimeo and I came across this great video:
In the kit you receive two sensor pods, a chest strap and a USB charger for the pods. I simply downloaded the free SHFT app from the App Store and I was pretty much ready to go!
First, I charged the pods using a USB charger that came with the kit. They glow from red to blue to let you know they're charged.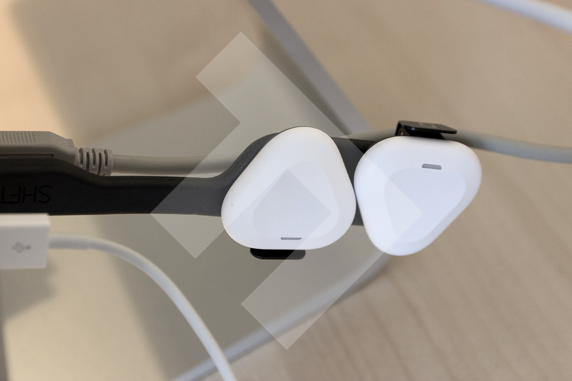 Then you pair the pods with your iPhone, simply tap them and the blue LED light comes on. Then you put one of the pods on your trainer and the other goes into a strap on your chest. I was wary of the chest strap at first as I've used one from a different brand in the past. This one was quite comfortable though and you couldn't really feel it was on you. It has sticky rubber spots around the inside so it doesn't slip down. Mine did at first but I just didn't have it tight enough. You simply pull one end to tighten it.
Then I was good to go! My iPhone went into an arm strap and I popped my earphones in so I could hear the coach. Once you've downloaded the app and registered, there a big green button that says 'Start Running.' I filled in my personal profile, height, weight etc before I started. Here are a couple of the screens.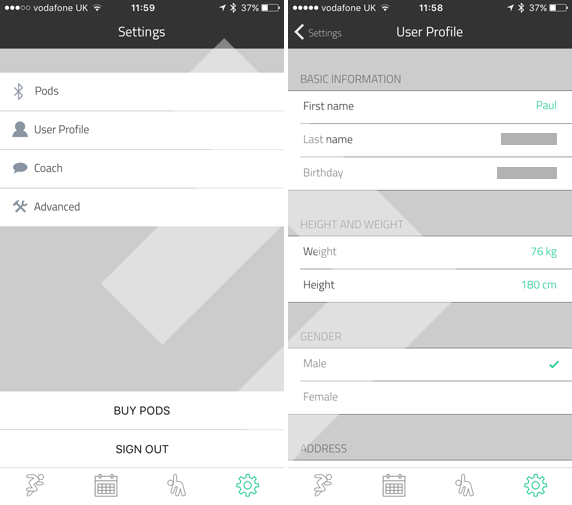 There's also a great section in the app called 'Technical Drills' which has a few videos in there. They're perfect for warming up and cooling down.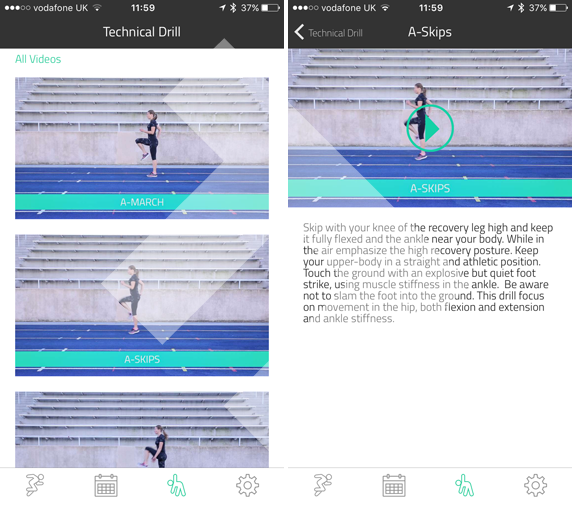 During my first run, I was monitored. I was told my running technique was ok and that there was room for improvement. For example, I was leaning over slightly when running and so I was told to straighten up my back. This may explain the lower back pain I've been suffering with lately! The 'Technical Drills' above really helped me with my running strength too. After the run, it recorded it into the app. It showed Pace, Distance, Time and Power. I'd show you a screen grab of that but it has the street names on the map and so you'd know where I live, haha. The first running report claimed I should be increasing the number of steps per minute. This will lower ground contact time and reduce the peak mechanical stress on the body.
I loved using my SHFT system and I recommend it to anyone who runs by themselves. I'd also recommend it if you're looking for technique improvements. Do you find you're always getting injured? Then SHFT could help you with that! They're currently retailing at £259.99 from SportsShoes.com and here's a direct link to where you buy your very own SHFT kit. Although I thought the price was slightly high at first, it wasn't until I'd used it and I realised it was an absolute bargain. You won't find a better running motivator on the market right now!
#RunRight

*Disclaimer: This was a collaborative post with Sports Shoes and I was given the SHFT system in order to give an honest review. All words and opinions are my own.