I've wanted to write a post like this for quite some time. Actor's who lose and gain weight in order to play certain movie roles.
I think if the weight is done in a safe and sensible way, then I don't have any issues with it. Dramatic weight loss or gain however, is something I don't agree with.
I wrote this about Russell Crowe back in February 2012 and then I walked past him in London a couple of months later! He looked great by the way and he still shares his fitness routines via Twitter. Like Tom Hanks, Russell has been subjected to losing weight depending on the role. Some people question as to whether film stardom gave Tom Hanks diabetes?
Chris Hemsworth subjected his body to intense change as he lost the muscle built up in Thor, to prepare for his role as racer James Hunt in Rush. To celebrate the release of 'Rush', Sky Store are offering an all-expenses-paid trip to the Silverstone Grand Prix, and are throwing in exclusive pit lane access!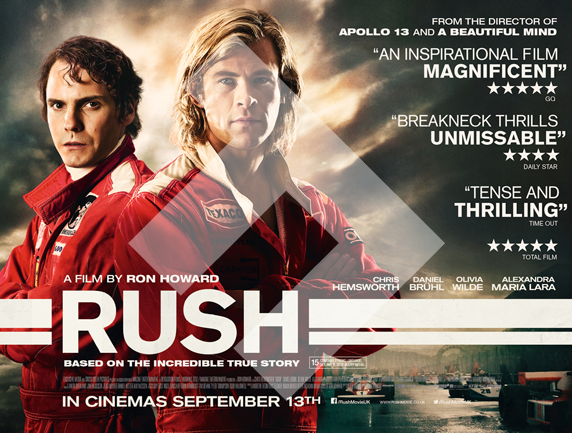 Chris used compound movements to burn off more calories. This means you work multiple muscle groups at the same time. Something like the squat, bench press or deadlift is a great compound exercise. Chris shred 14kg of pure muscle for this role. He did this by eating very little protein and limited his carb intake.
In order to lose or gain weight the safe way, you need a good team around you. This could be said for Formula 1 too! Here are three vital roles for the team around you.
Personal Trainer
Selecting a well-respected and licensed personal trainer is essential in any training plan. They can keep you constantly motivated and active for up to three hours a day. One of the best bits of advice they can give you is commenting on your form. Completing a full rep in perfect form is better than four or five in bad form. Your personal trainer will become your best friend over the next few months.
Nutritionist
Working closely with your personal trainer, they will devise a nutrition plan to perfectly complement your hard work in the gym. Eating the right kind of food is essential, as you want maximum gains from your workout.
Personal Chef
It's harder for us to avoid the delicious chocolate treats we see our children eat every day. For many actors, they will have their own chef who will serve up the food from the nutritionist.
The combination of the three roles above will certainly help any actor will their goals. Chris will have a great team around him and he'll be getting advice daily on taking the healthy path to success. His current role as racer James Hunt in Rush is an interesting one. Not many people will know the physical effects of formula one racing. Here are few racer facts below:
Endurance
Fitness is a fundamental part of competing. No other race series on the planet requires so much stamina and endurance. Did you know the cockpit can reach temperatures of up to 32 degrees and racers can lose up to 3 litres of body fluid in sweat! Physical endurance is maintained through intense cardio training, mainly swimming or running.
Hydration
This is absolutely vital. Drivers should drink large amounts of water, even if they aren't thirsty. This prevents dehydration from all the sweat they lose.
Equipment
Normal equipment found in the gym cannot replicate the use of neck and chest muscles in a race. That's why they use specifically designed 'rigs' to build the muscles needed for combatting corners.
I hope you found this article interesting? If you're planning to lose or gain weight, do it the safe way and take your time. Please don't rush it.

This is a sponsored post on behalf of Sky Store.