I took part in the Hamsterley 10k on Sunday and what a great run it was!
I signed up to this event after a couple of beers on a Friday night. Remind me never to go on Twitter when I've had a drink again! Seriously though, this is yet another example of how powerful social media is. I've also been chatting to loads of other runners since signing up to this event. It's all good!
As with all my reviews, they're honest. I hope the organisers from the Hamsterley 10k read this too. It was a great event and the run was extremely well organised but I had a couple of issues. I'm hoping they take them onboard and iron them out for next years event.
We arrived with plenty of time of spare. In tow were my Wife, her parents and my two young kids. I was asked "Are you running today?" I replied with "Yes, well I'll try!" I was then told to follow the car in front of me. We turned into a car park while a marshall walked past us. We suddenly realised we were in a car park with no spaces left and a line of cars with nowhere to go. Great! After a 155 point turn and some hand signals, we managed to get out of the car park safely. I wondered why I'd even been asked if I was running as it made no difference. We ended up in a car park much further down the road plus a 15-20 minute walk. Not really ideal with two small kids. Perhaps the spaces closest to the starting line could be reserved for runners only? We saw several people getting bikes out of their cars so therefore not running.
I said my goodbyes and ran to the starting line. We were off! School boy error on my part here. I needed to get closer to the front as two minutes had already passed by the time I got running. I'm not that competitive and I'm not that bothered about my time but what I do want is the most accurate time I can get. As it wasn't chip timed, we live and learn!
The combination of heat, hayfever, flies and numerous hills made this event one of the toughest runs I've ever done. This was only my second 10k event ever (officially). In the first 5k we were hit with hills that I thought I'd never make it up. I had to dig deep on this run, I feel proud just to have completed it.
As I've said, the run was extremely well marshalled and the route was clearly marked. However, I was expecting a water station at 5k but unfortunately it was around the 7k mark. If I'd known it was going to be at 7k I would have taken my own water as it was really hot that day. Obviously there are reasons as to why this happened but I'm not interested. In the heat we had on Sunday, you cannot put the safety of people second best.
I can't imagine how hard it is to organise an event like this so I take my hat off (if I was wearing one) to Julie and the team. I don't think I'll be the first person to mention the points above so I really hope they manage to iron them out for next year. It was a great event, one I'll remember for being so tough. Will I run it next year? Maybe. I'll have to see what happens in 2014. I'd definitely recommend the Hamsterley 10k if you're after a challenge because it was certainly that. The Hamsterley 10k also raised awareness for Butterwick Hospice. I believe they raised an incredible £10k! Absolutely fantastic!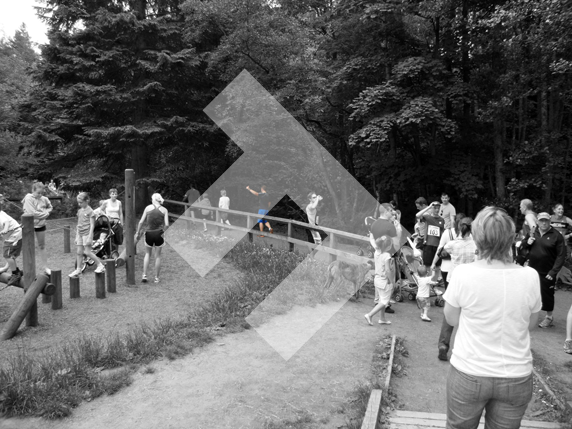 I love the picture above. Amy took it as I crossed the line. The thumbs-up signals a big thank-you to everyone who cheered me on and supporting me that day. I crossed the line in 105th place out of 360 runners, I'm really happy with that.
Thanks for reading and I really hope you guys consider running this event next year. It was a really good event, priced fairly and shouldn't be missed.