I received an email a few weeks back from a really cool guy called Sam. He wanted me and the guys to sample some products he was representing from Multipower.
I was unsure at first, just because I'm supplement free but I thought let's go for it! I received a handful of products which I dished out to Stephen, Val, Anj, Kev and myself. I'll let you know as soon as the other guys have had chance to write theirs. It should be pretty soon.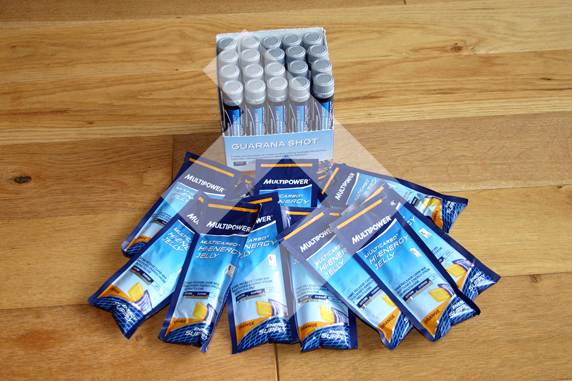 The two products I sampled are pictured above and they were Guarana Shots and Multicarbo Hi-Energy Jelly. Here are my thoughts on each of them:
Multicarbo Hi-Energy Jelly
This was the first product I tried over a two week period. They're a handy size to just put in your gym bag and keep in your pocket. Multipower claim the jelly provides a time release carb mix for fast and sustained energy from isomaltulose. You are advised to take the jelly before and during exercise, I tried both.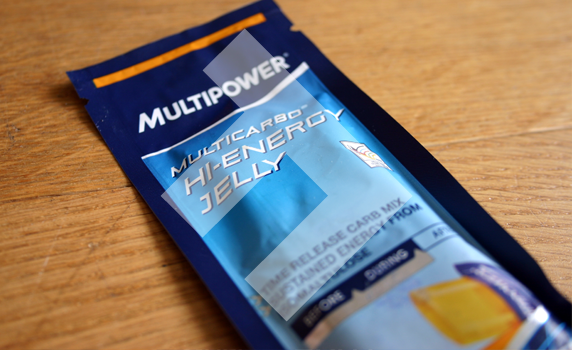 I gave the product two full weeks so it would get into my system. I've been supplement free all year so I wasn't sure how my body would react. My general fitness are pretty good, I eat lots of fruit and vegetables which normally provide me with energy throughout the day.
Firstly, the taste was surprising nice. Most supplements I've tried in the past (especially protein powder based ones) taste terrible. It's like taking medicine when you were a kid. The Multicarbo Jelly was different though, it was like you weren't taking a supplement at all. Definitely a big thumbs up for that.
Did I think the Multicarbo Jelly made a difference to my training? A little bit. I certainly noticed a difference when weight training. I must admit though, somethings like this are a tad bit psychological for me. I left a two week gap between trying the jelly and going onto the shots.
Guarana Shots
These are to be taken before training and are supposed to kick-start your day. Multipower claim a long-term energy supply with every 1500mg shot. Unlike the Multicarbo Jelly, the taste of these shots were strong. Not in an awful way, just in a 'blimey, that tastes strong' kind of way. Again, these shots were a handy size. As you can see from the picture at the top of this article, they looked like test-tubes.
Like the Multicarbo Jelly I tried to give these shots two full weeks, I only gave them one. Don't read this as a negative though, it was because they worked! The response was incredible. Was it because my body had adjusted quicker after sampling the jelly? Who knows but I really noticed a big difference with these Guarana Shots. I jokingly emailed Sam asking what was in these things? Even after taking one in the morning, I felt I was wide awake at night. I had visions of doing the hoovering at 1 o'clock in the morning, I had so much energy!
I even had one on a morning I wasn't training. I have two young kids who get you up on a morning between 5-6am. Great! I think some people don't realise what a strain that can be on both Amy and I. I turn up to parkrun on a Saturday morning felling hung-over and I haven't even drank the night before! We both work really hard during the day and on an evening too. I do think we don't get enough sleep at the moment but there's nothing we can do about it. We'll battle through for the next year or so and hopefully things will improve.
Having said all of that, have Sam and Multipower managed to twist my arm? Unfortunately not. I still believe there's nothing out there that I can't obtain from real food. Put a decent price tag on top of that too and I just don't believe 'real' people need to spend that kind of money on products like these.
I also think it's a bit of a shortcut, a cheat if you will. Take a shot before a run one week and not the next, have you cheated yourself on the earlier run? Where do you know where your 'actual' training level is at? I know week in and week out what I put into my body, so I know that any gains I do make have been down to hard work in the gym.
Listen, the products do work and if you're after a boost, buy these products. If you just like training for fun and keeping fit like me, save your money. Ask yourself a very important question. What do I want from training? Do you train like me or do you train for competition, to look good or something else? Once you've answered this question, supplements will either play a big, little or no part in your plan.
As Val said at the end of her article and I have to agree, you can't really go wrong with a couple of bananas.
Thanks for reading,