I've been working with HoMedics over the past few weeks and testing out their product STRETCH. It's a mat that mimics yoga moves.
I must admit, I love it and along with beach walks – this is my new way to unwind. The STRETCH mat is made up of precision controlled air chambers that inflate in sequence to emulate yoga style stretches. I still find the noise of the mat a little off putting but that's nothing that some easy listening music doesn't fix!
Inspired by Yoga, the mat has four sequences to help you stretch, relax and relax. Designed by a yoga pro – the sequences deliver many benefits of calm and controlled stretching, without leaving your mat. I've now had good quality time to test each of the functions.
Twist
A short program (6-9 minutes) incorporating twists to decrease tension in your shoulders and hips. Also great for releasing tension in the lower back. I'd also add it's great for those neck muscles. I was in a car accident when I was 17 and I've had recurring neck issues since. Using STRETCH really helped to ease my neck and my lower back.
Flow
A progressive flow of stretches to gently mobilise the whole length of the spine leaving you feeling refreshed and more supple. This was a 9-15 minute programme and I've now built up to the second level of intensity. I recorded 'Twist' and 'Flow' into a time-lapse video, which you can watch further down in this post.
Energise
An uplifting program to help boost energy. I really enjoyed this 9-12 minute programme and have completed it on numerous mornings. It left me feeling relaxed (almost sleepy!) yet ready to tackle the day ahead.
Stretch
An 'all-round' treatment (10-15 minutes) providing a great antidote after long periods of sitting. If you sit at a computer desk (like me) for numerous hours of the day, this programme is perfect. The intensity level was on number one for me and this programme was more like a relaxing massage than anything else. I think this is my favourite setting out of the four. I like an all rounder!
I recently invested in a new camera to help me develop this blog. Me being me, I thought I'd try and pull together a little video of me using the mat. Then I realised (like yoga) it's harder than it looks! Have you ever tried operating a camera and trying to get yourself in the pictures? I think the following video is great though and it explains STRETCH in a much better way than I ever could.
I personally think the STRETCH mat is a great invention. I recently did a JumpGa class and that combined jumping on a trampoline with yoga. I really like the idea of me performing yoga as I appreciate all the benefits – especially knocking on the door of 40. I get more aches and pains these days compared to when I was in my 20's. Speaking of which…
When I was younger, I exercised to look and feel good about myself. As I got older, I realised I mainly exercised to combat stress. So if stress was the end point, what was the starting point? Well to exercise efficiently you need to fuel yourself correctly. In order to eat the right food groups, you need to have a clear mind and this is where the journey begins and ultimately ends. We've gone full circle.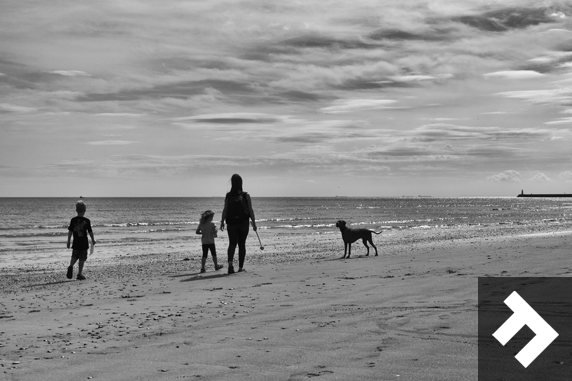 I speak frequently about my family trips to the beach. This is to clear my mind. I then have a clear head to make clear and correct decisions – including eating the right foods. This fuels me to train efficiently and then I combat stress.
I wanted to highlight the importance of combatting stress. Now this can come in many forms – reading, listening to music, exercising, visit places you like. As the weather has drastically changed, our beach trips are less often. So the STRETCH mat has come at the perfect time for me!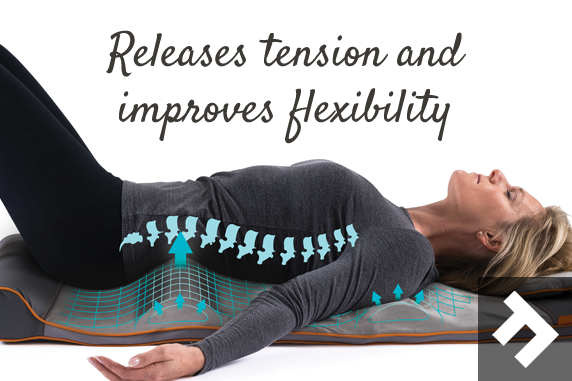 I love the fact that STRETCH folds up too. I actually kept the box it came in and it all goes away when I 'm not using it. I had left it out on the kitchen floor last week and when I came back in, Yogi (my Hungarian Vizsla) was lying on it. It was so funny! I ran to get my camera but he had moved by the time I came back. How typical!
The HoMedics STRETCH Mat is currently on offer for £199.99 (RRP £249.99) and is available to buy from HoMedics.co.uk, Argos and Amazon. Don't forget, you guys can also use 'FFITNESS50' to receive an additional £50 off!
So what are you waiting for? Target your stress and unwind now with STRETCH.

*Disclaimer: This was a collaborative post with HoMedics and I was given the STRETCH in order to give an honest review. All words and opinions are my own.