I can't quite believe we're into October already but there you go! I love it when there are months on the calendar that raise awareness for certain health topics. October is 'National Cholesterol Month' and I've teamed up with HEART UK and John West to compete in the 100 Mile Great Cholesterol Challenge.
Over half of all adults in England have raised cholesterol. During October, I'm helping raise awareness of the dangers of high cholesterol with HEART UK. They provide vital and life-saving support, guidance and education to stop illnesses caused by cholesterol.
If you read my post yesterday, you'll know how I slightly tweaked my eating habits and increased my fitness levels to get in better shape. By making changes to the food you eat and being more active, you can help lower your cholesterol to healthy levels. If you aren't sure of what your cholesterol is, see your doctor and enquire about a blood test. If you are overweight, smoke and have high blood pressure, you may be at risk of having high cholesterol levels too. This can lead to heart attacks and strokes and we don't want that!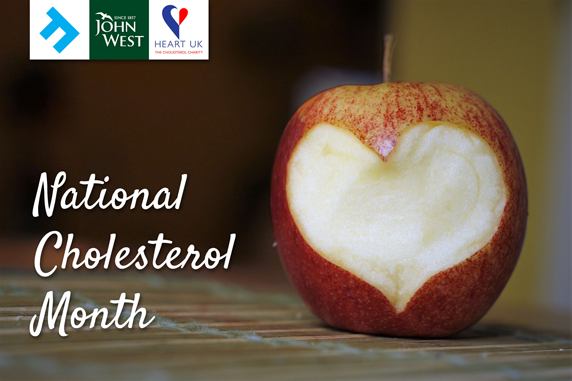 Together with HEART UK and John West, we aim to raise awareness of high cholesterol. I'm encouraging people to include one portion of oily in their diet each week. By oily fish, I mean salmon, mackerel and sardines. These contain the long chain heart-healthy Omega 3 fatty acids, EPA and DHA. These play a huge role in the development and function of the brain, eyes and the heart.
I'm also encouraging you all to join me in the '100 Mile Great Cholesterol Challenge.' The goal is to walk, run, swim, cycle or crawl 100 miles during October. Let's all encourage each other to get fitter and healthier during October and raise awareness of cholesterol at the same time.
Personally I'll be doing plenty of dog walks with the family. I'll be going in the gym weight training and I'm also taking part in a swimming challenge, which starts on Monday. I have a feeling October is going to be rather busy! To help me keep track of all my activity during October, I'll be wearing my TomTom sports watch.
So guys, you have two things to do…
Include one portion of oily fish in your diet each week.
Join me on the 100 Mile Great Cholesterol Challenge.
Don't forget to be social too! If you are taking part in the #OneAWeek challenge, don't forget to tag myself and @johnwest_uk. Tag @heartukcharity if you are taking part in the 100 mile challenge and include #NCMheartuk in all your posts.
I look forward to supporting you during October and the coming months.

*Disclaimer: This was a collaborative post with HEART UK and John West. All words and opinions are my own.