This post has been in draft form for a while now. I suffered a pretty bad gym related injury last year. It was completely my own fault through lack of stretching before and after exercise. Not having enough time to train and a lack of room in the gym all contributed to this injury.
Having also suffered a foot injury I turned to: http://www.northwichfootclinic.co.uk/ and they sorted the problem out straight away. I've labelled this post as "No pain, no gain, no brain." We've all heard of "No pain, no gain" but what does it actually mean? Surely we're not mean't to be in actual pain when we train or after we train? The day after I've been in the gym, my body feels like it's been in the gym. This is a good sign because it means I've activated the right muscle groups and my body is simply repairing itself. It's important to have recovery days. I'm currently doing a one day on, one day off and training three times week.
I've learn't a lot over the years and at the time of my injury I knew I was susceptible to one. I guess my head said "just do it" even though my set-up was wrong. Right now, I have the perfect set-up. Here's a pic of one side of my gym wall: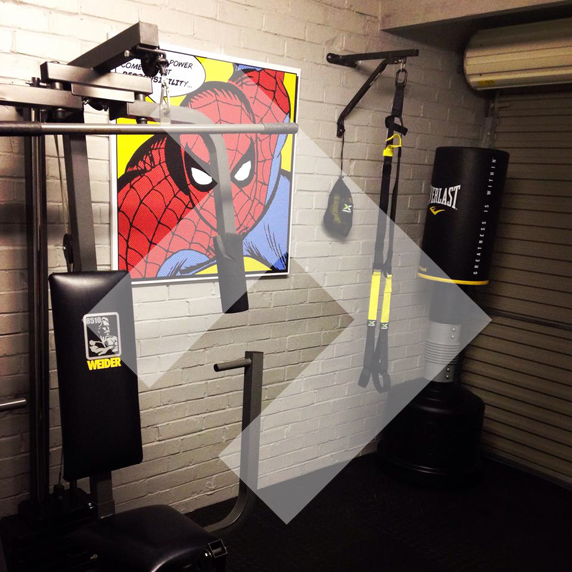 The equipment above is a Weider machine, Everlast punch bag and a Loxley Suspension Trainer. I also have free weights, kettlebells, a range of barbells, weighted vests, a folding bench and various other small bits of equipment. I have my eye on some squat racks and also a pull-up and dip station.
So no more excuses and fingers crossed – no more injuries. No pain, no gain and definitely no brain.