Yesterday I completed my first Pier To Pier run so I thought I'd do a quick write-up as it's fresh in my head.
Firstly, the race was fantastic! Secondly, it was very well organised so I have to say a huge thank-you to both the Sunderland Strollers and the South Shields Harriers.
I completed the race with Ray and Peter, we are all pictured after the race at the bottom of this article. Peter is taking part with me in Total Warrior so it was good preparation for us. Peter mentioned the Gateshead 10k at the end but we'll see! The race started at 10:00am and ran from the beach at South Shields. I'd guessed there were around 1000 runners taking part and they all looked pretty fit so I wasn't too sure about where I'd finish. Everyone seemed to have thin runners legs when compared to my thunder thighs! I'd mentioned to the lads in the car on the way there, I expected to finish in about an hour. For a 12k run, I would be happy with that. The run along the beach was brilliant. I'd love to get hold of a picture as it would've looked great seeing all the runners lined up at the start. I can still picture Peter and I grinning as we jumped over the small puddles of sea along the beach. Our pace at this point was fast, due to the adrenaline and the atmosphere. By the way, I didn't hear the starting call as my back was turned and I had my iPhone on, the lads found this very amusing! So you could say I started the race in last place! Lol
Once off the beach there was a pretty steep climb onto the tops. The next few strides are a blur but I remember a good mixture of grass (long and short), trail, hills (up and down), fences, steps (up and down) and gates. You name it, the Pier To Pier had it! I turned my ankle slightly at 4k in a hole in the grass but it wasn't that bad so I managed to run  it off. I made sure I took in all the scenery as the sea was just to the left of us all the way. Once we were past Marsdon Rock I knew we were nearly halfway and I was hoping my support had turned up. Then I saw Amy (plus bump!) Sister-in-Law, Mother-in-law and Father-in-law holding Adam. Apparently he'd been saying "Run, Daddy, Run!" I quickly waved, smiled and grabbed a cup of water.
8k now and I could feel a stitch coming on. I couldn't believe it. I had no breakfast that morning (just a small bite of banana) so I let out a cry, reduced my pace slightly and battled on. By 10k is was gone and as we came into Seaburn, the view again was fantastic. The run along Seaburn was nice and  I knew we were nearly there. It was also nice that people were clapping and cheering as you ran past. Round the last bend, down on to the beach and I could see the finishing flags. I let out a "thank god" which made runners around me laugh. I did mean it and there were points in the race where I struggled but all in all I'd definitely do the race again.
It was flat along the beach to the finishing line. I could see my Mam and Dad had joined the gang and it was great to have the support on the day. It was my first actual running event in a few years and I'd missed it. I honestly had no idea what my time was so I quickly checked my Nike+ SportBand. I couldn't believe it when I read 59:44. My guess of 1 hour was spot on! I was over the moon with this time and it felt good to be just under an hour as opposed to being just over. My overall position was 488th out of 908 runners, I'm very proud of that. I quickly picked up my free bag of crisps, Mars Bar and a More Mile rucksack (very nice). Ray and Peter were already with the rest, Ray finished a minute ahead of me and Peter finished with a fantastic time of 51:50. They all agreed it was tough but a really good run. I think we're all in for next year anyway.
The results for the Pier To Pier Run 2012 can be found on the Sunderland Strollers website. Here's another pic taken by my Dad. I'm on the left, Peter's in the middle and Ray's on the right.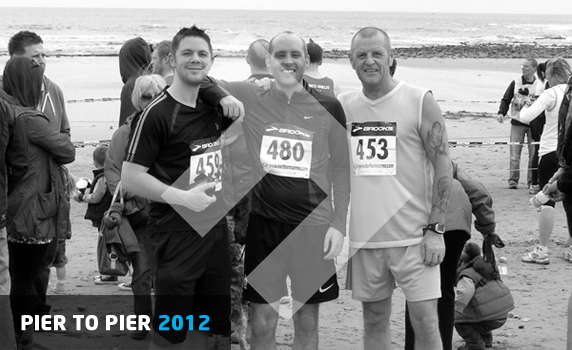 The Pier To Pier 2012 was a great run, friendly and well organised. I would definitely recommend it to any runner, no matter what your running experience. I've ran other events in the past but I found something special about the Pier To Pier concept. If you fancy a mixture of terrain and fantastic views then look no further.
Thanks for reading and we hope to see you next year!