One of the most exciting reviews to date. I got the chance to test-drive the new Samsung Galaxy S4 Active.
First things first, here is what I received.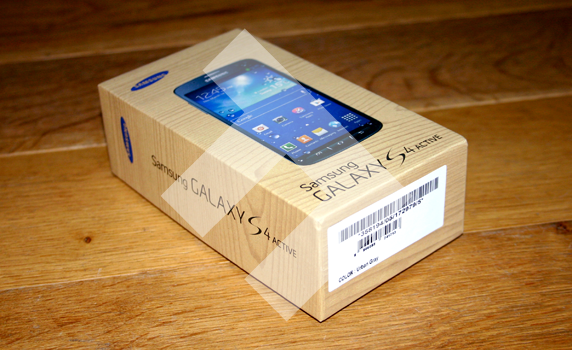 I must confess that I'm not really a technical person. I do own an iPhone but it's a year or so old. I find all this upgrade malarky a load of hassle so I like to stick to what I know. However, setting up the Galaxy S4 Active was really easy! I simply inserted a sim card and turned it on.
First impressions were pretty good. It was really, really, really light. As an iPhone owner (which I think are pretty heavy) this felt like half the weight. I then questioned the battery life. I can confirm that the phone easily lasted a full day and that was after a days hammer on the internet and messaging/emailing etc. I did think the phone seemed quite big (5″) but because it was so light, it didn't really appear that bulky once out of the box.
Now there are a load of other features that this phone has on offer. Here are the top three:
Use a range of great smart services
Enjoy powerful Quad Core performance
Capture photos and video underwater
As I already mentioned above, I'm not that technical. Where as the features above sound impressive, I was more interested in the fact that Samsung claim this phone to be protected from dust and water damage. Really? Surely not! Well there's only one way to find out…
I immediately bought an armband from eBay that would attach the phone to my arm. Then I hit the roads on a typical rainy, dull and windy day in the UK. A mile on road, then I hit some trail and 'accidently' dropped the phone out of the arm band. Accidently? Of course not! I wish my name was Sam, as the title to this post would have made more sense. However, I chucked, dropped, dunked and flung this phone around until it could take no more. I can indeed confirm, that this phone has to be one of the most durable phones on the market. The only thing I didn't do was run over it in a car as I thought that would be silly!
As well as being extremely durable, it takes some brilliant photos too. Samsung boast an eight megapixel camera on the back and even a two on the front! That's more megapixels than my first digital camera, now I feel slightly old. The phone has a range of connectors including USB v2.0 and various micro SIM and SD.
The display was also incredibly impressive with a resolution of 1920 x 1080. I must confess, I didn't really have a good look around the phone in terms of services and applications. I thought I'd leave that side of things to someone more technical than me, perhaps my Mam.
Thanks to Red Consultancy for this fantastic opportunity and thanks to Samsung for producing such a terrific device! This phone will definitely hit the spot with people who are active outdoors. So mountain climbers, bike riders and runners should take a look at this phone and seriously consider it. People called Sam should definitely consider it too.
Thanks for reading,