Something I wish I did more of is yoga. The problem is, it's harder than it looks!
The word yoga means "union" in Sanskrit. Think of the word union occurring between the mind, body and spirit. There are some people that think yoga is just about stretching when it's really about creating balance in the body through developing flexibility and strength.
I was recently sent a STRETCH Back Stretching Mat by HoMedics. STRETCH offers a new way to bring the benefits of yoga into your day – helping to release tension and improve flexibility, leaving you feeling less stressed. The mat has precision controlled air chambers designed to inflate in sequence to emulate yoga style stretches. I was really interested to see how this would work and feel.
Surrounded by my two kids and Mrs, I battled to get the first go! The STRETCH mat unfolds and the set up was really easy to follow. Simply attach the head pillow, plug it in and press the power button on the remote. You have three intensity options and the remote control also offers four program options.
Twist (6-9 minutes)
A short program incorporating twists to decrease tension in your shoulders and hips. Also great for releasing tension in the lower back.
Flow (9-15 minutes)
A progressive flow of stretches to gently mobilise the whole length of the spine leaving you feeling refreshed and more supple.
Energise 9-12 minutes)
An uplifting program to help boost energy.
Stretch (10-15 minutes)
An 'all-round' treatment providing a great antidote after long periods of sitting.
Here's a great video I found online…
I went for the shorter program of twist. I suffer with occasional lower back pain so I thought this would be a good place to start. I wasn't sure what to expect from STRETCH as I've never used anything like this before. Even though I was just lying there relaxing, the mat moved my body through a sequence of yogi inspired stretches and twists. It was really impressive!
It took a little while to get used to and I'd recommend listening to music as the air chamber noises can be off putting when you're trying to relax. Try Enigma…
My Mam, who is almost 70, had a try of the STRETCH mat yesterday and she was bemused, haha! She settled into it though and agreed it's a great concept. I love the fact that there are various leg and arm positions depending on your flexibility. For example, if your flexibility is poor, bend your knees and rest your arms by your side to receive a mild intensity. If you're very flexible, straighten your legs and extend your arms over your head to receive full intensity.
The HoMedics STRETCH Mat is currently on offer for £199.99 (RRP £249.99) and is available to buy from HoMedics.co.uk, Very.co.uk, Argos and Amazon. You guys can also use 'FFITNESS50' to receive an additional £50 off!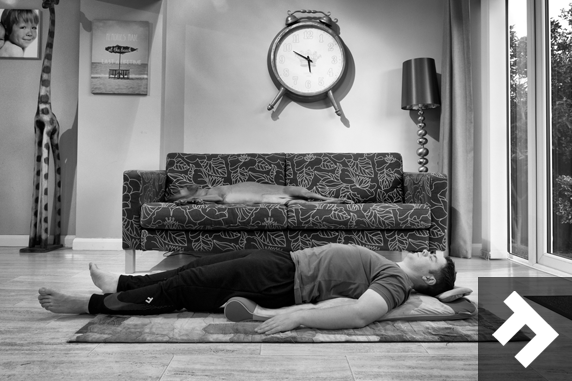 I'm going to be using the mat over the next few weeks so stay tuned to hear my progress. I'm doing lots of weight training including circuits so it will be great to stretch and unwind on the mat in the evenings.

*Disclaimer: This was a collaborative post with HoMedics and I was given the STRETCH in order to give an honest review. All words and opinions are my own.