I had the pleasure of meeting James Tindale last week. James is from the north-east and is a personal trainer. He's just about to launch his own online training platform called BodySculpt VT.
James also appeared on MTV's Geordie Shore and I apologised in advance as I'd never seen it before. He is 23 years old and I can't imagine what it must be like to have such a following at his age. He has nearly one million followers on Twitter!
After studying James' very impressive quiff, we got down to business. I had a few questions for him, some personal and some about BodySculpt. I wanted to know his fitness background, why he's involved in it and what he plans to do.
Background
James has always been interested in health and fitness and he took up kickboxing at the age of 14/15. He studied at Premier Training and picked up numerous qualifications such as circuit training, kettlebells, nutrition, personal training and 1st aid. I also discovered he was trained by my next door neighbour, what a small world!
I was keen to know why James trained and why he thought other people should exercise too. I was pleased to hear him say 'lifestyle' as I'm big on this. He's aware of what exercise does for confidence and the looks of a person and he said that training was a little bit addictive too.
A typical training week for James contain full body movements, cardio and sprint intervals. He mentioned 5k so I told him about Gateshead parkrun. I really hope he can make it one morning as I think he'll love it. James does take supplements and he has his own company called James GS Fitness. He travels a lot so he finds supplements like protein shakes easy to take.
BodySculpt VT
Here's a screen grab of the BodySculpt VT website. James' hoping it will go live within the next couple of weeks so keep your eyes peeled. I'm sure I'll send a tweet out when it does.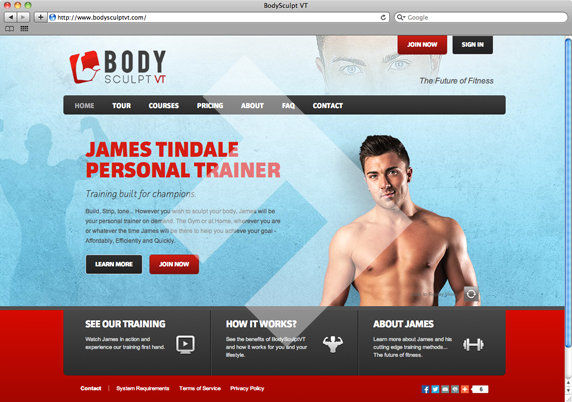 BodySculpt VT is an online training platform. It sounds like you'll have your very own virtual James! The platform is geared up towards both male and females, you basically click through a list of options at the start. Priced at only £13.99 a month, I think this is a bargain when compared to the hourly rate of some personal trainers. You can access BodySculpt VT at any time and watch it on your mobile. Train at home or in a gym, you can take James with you.
James will be actively involved throughout the sessions on Twitter so if you ever need any motivation, he'll be around. He's also thinking of having some live sessions which I thought was a great idea. BodySculpt VT will also offer nutrition plans that will vary depending on what your goals are. James said that he'll be adding new exercises to the platform every 8-12 weeks to keep things fresh.
As well as the training platform and supplements store, James also has his own clothing range called Gods Gift. We did laugh together when he told me the name of it! It appears to be gym wear and it looks really good quality. Check it out if you have time and please consider his supplements range too.
I said to James that you can tell a lot from a person from the first five minutes of a meeting. James was one of the most enthusiastic people I've ever met. It was clear to see that he really has a passion for fitness and that he genuinely wants to help people. An hour of meeting James and I wanted to go home and train, that's how impressed I was.
I wish James and BodySculpt VT the very best of luck, I somehow think he won't need it. It's an excellent idea and I'm sure combined with James' passion, that it will be a huge success.
Thanks for reading,