You may have a certain Beatles song in your head after reading the title of this blog. I mentioned in an earlier post about having only a handful of days to get in better shape for an event. I'd like to tell you how I achieved it and how my friends over at TomTom Sports helped me along the way. Oh and I also got by with a little help from my dog Yogi.
Like I've always said, this blog is a realistic and honest account of my own fitness journey. I'm constantly faced with battles through lack of sleep, not enough time to train and what meal can I eat at the drop of a hat. So in other words, I'm not the fittest Dad on the planet.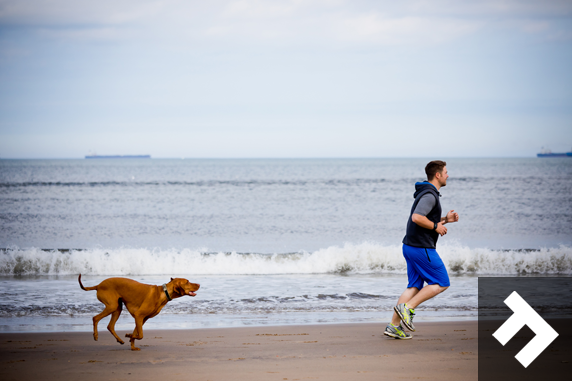 My journey so far this year has been pretty good though. I declared in a blog post earlier in the year that I wanted to be in the best shape of my life and I'm not that far off! It's still a goal I'd like to achieve. With a swimming pool family holiday planned in November, it's great motivation for me.
So I'd like to share with you what I did to get back on track with my goals. I was carrying a little bit of excess weight and my fitness levels weren't at their peak. I immediately designed a plan for both my nutrition and the gym. The combination of both these things worked a treat. My metabolism is slowing down with age but I'm experienced enough now to know how my body reacts to certain things.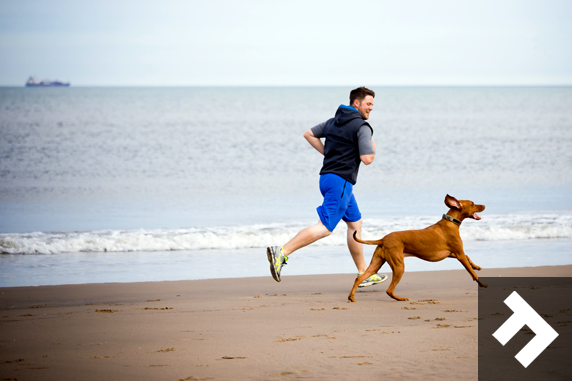 My workout plan included little bits of running, I chose the beach so it was lower impact compared to other harder surfaces. I was joined on the beach with my Hungarian Vizsla Yogi and photographer Deano Moore. He managed to capture the stunning photos featured in this post and also this video…
I devised a weight training programme which included many compound lifts such as deadlifts, bench press and military shoulder presses. I also did a bodyweight circuit, which included exercises such as press-ups and pull-ups.
My TomTom watch tracked all my gym activity and it was a really great source of motivation for me. If you'd like to consider using TomTom too, I have a 30% off code. Simply click here and use 'FATHERFITNESS30.' TomTom have a range of devices available that will suit your budget and your needs. I love my TomTom watch and I know Mutha Fitness loves hers too…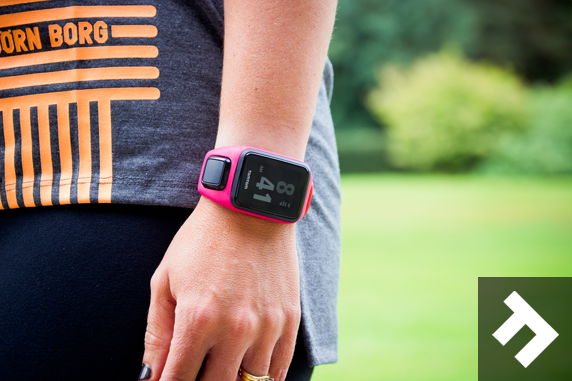 My nutrition plan was really, really simple. Tighten it up. I still drank a beer or two but limited saturated fatty foods like crisps. I also reduced my sugar intake with foods like cake. My head loves things like that but my body really doesn't! It does react pretty good though when I cut it out.
The combination of better food choices and increased activity levels in the gym, made me feel fitter and healthier. It also tightened up some areas on my body and got me stronger. As well as all those things, my skin was glowing. When my skin is good, I'm generally in a good place.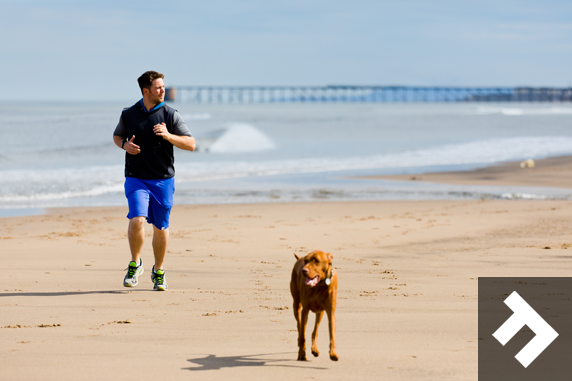 Your body can be a complex machine at times but let's face it guys, it's not rocket science. We all need a kick up the backside sometimes. By simply tightening up my food choices and increasing my gym activity, I got in better shape.
Good luck for the remaining few months of 2017.
Is this year going over way too fast for anyone else?

*Disclaimer: This was a collaborative post with TomTom. All words and opinions are my own.