I've recently completed my part in a relay team of influencers for the Aspire Channel Swim Challenge. I'm not going to lie, it was tough!
Tough yet really rewarding and I'm so pleased I got involved. Some of you might be thinking "it's only a couple of miles" but as a non-swimmer like me, I found it really tough. I guess it's like me saying to someone who doesn't lift weights, to bench 100kg! I'm not a natural swimmer and I was honest about that in my previous post when we set out on this challenge. What I can say is that it's really improved my technique. I focus much less on my breathing and trying not to drown and actually feel quite strong in the water now. From a personal point of view this has been a great fitness journey for me and one I wouldn't have embarked on (and completed) had I not been part of the team.
On that note, I'd like to give a special shout out to the rest of the relay team of influencers. We are from all across the country yet all worked together to take part and complete the challenge. The Channel Swim raises money for Aspire and those paralysed by spinal cord injury. It really is a great charity and a great event to not only raise awareness of the condition but also bring people together.
The other nine influencers are as follows:
Mutha Fitness
The Everyday Man
How Many Miles
Em Talks
A Mummy Too
Brum Hour
Emmy's Mummy
Lucie Loves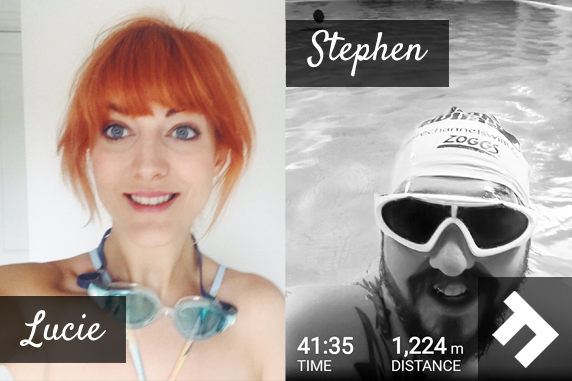 Lucie (Lucie Loves) and Stephen (How Many Miles) are still swimming and due to finish on the 4th of December. You can view everyone's profile on the following relay tracker link and please pop over to their Twitter pages and show your support during the final push!
I hope some of my regular readers also joined in the challenge? An incredible 5468 people are swimming across the Channel and raising money for Aspire. How amazing is that! I'd like to give a special mention to Lesley and Jane – they are both really good friends of ours and they had seen our posts and decided to sign up. They didn't realise we were part of a team and took the plunge to swim the full 22 miles on their own. Both ladies showing that you can be fit and fabulous at 50! Well done girls and thanks again for supporting.
The challenge not only raises awareness and vital funds for people paralysed by spinal cord injury, it also acts as an event to get people active. I was saddened the other day when I was told that our kids aren't as active as we were as kids and that we weren't as active as our parents were. If things continue, it's only going to get worse. We all need to pull together and make a change to those statistics. Events like the Aspire Channel Swim really are fantastic and I'd love to be involved again next year. I'd love to continue swimming so maybe I'll be a pro swimmer by then, haha! I know how good swimming is for you and I think it's a perfect low impact sport for me. Amy loves it too and you can read her closing post on the Aspire Swim here. She really enjoyed it and I know she'll continue to swim as often as possible.
The challenge finishes on the 4th of December so I'll be sending out some social media posts on the day when I'll hopefully have some fundraising figures for you from the country wide challenge. For now, thanks for reading and thanks again for supporting.