If there was one person in the World right now I'd like to meet and share a pint with, that person would be Dr Christian Jessen.
His popularity has gone sky high over the past few years due to Embarrassing Bodies and Supersize vs Superskinny. I watch these programmes with Amy but it's also his dedication on Twitter that I like too. He's doesn't get paid for tweeting but you can guarantee he's on there every few hours answering peoples questions. Some are funny, some are strange, some are unfortunately, just down right nasty. You can follow Dr Christian too @DoctorChristian
For those of you that do know who Dr Christian is, you'll know he's a Doctor and that he's ripped! I mean this guy has a superhero body. It's like he's gone away to a sculpter and asked for his body to be chiseled in the shape of Superman. He stands at 6'2″ and weighs in at 14 stone.
While watching Embarrassing Bodies the other night we discovered that Dr Christian's Body Fat Percentage was just under the recommended 8-19%. This figure is for males between the age of 20-40 years old. Women's for the same age is slightly higher at 21-33%. The show were quick to point out that Body Fat % is completely different to calculating your BMI so don't get the two confused. I might do a post in the future that shows you all the percentages and what's healthy and what's not. The same goes for BMI, so watch this space.
I'm not sure what Dr Christian's exact workout routines are but I know he does body splits. He's mentioned that on Twitter before and always hash tags them as boring tweets. They're not Dr Christian! I'm unsure about his diet plan but I'd love to know. Also on Twitter, I became aware that Dr Christian does zero cardio. That's right folks, zero! Some of you will be thinking how on earth can he have a body like that and be so fit and healthy, when he does no cardio? The answer is simple, he weight trains.
Weight training has a number of advantages, like keeping your body looking young. You could lose 40% more fat while weight training and you could burn more calories too. Weight training helps build stronger bones, gives you more flexibility, helps you sleep better, it's a stress reliever and can add years on to your life. Now who doesn't want to live longer!? So before you rule out lifting weights because you don't want big muscles, think again.
Update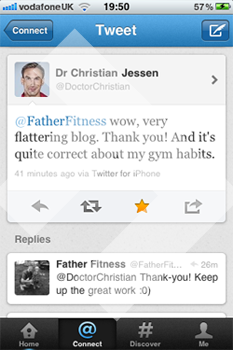 I tweeted Dr Christian last night. I don't really do that kind of thing but I wanted him to read my article to make sure what I was saying was accurate. I was delighted when he replied and he had actually read my article! I've uploaded a screen grab to the left so you can see his reply.
A few weeks later he sent these tweets: "I tend to avoid questions about my gym routine. That's because when it comes to exercise, what works for me may well not be right for you." He also added "I've developed my workout and diet to suit my metabolism and the way my body grows and responds. Copying my routine if you're a different body type won't work."
Thanks for reading and maybe one day I'll get the chance to meet Dr Christian over that beer.