With just under five weeks until Christmas (I think), I've personally been training and eating like a man on a mission!
I like to give myself two weeks off over the festive period to really let my hair down. This means, no gym, plenty of alcohol, mulled wine and mince pies. Throughout this period I don't feel guilty either. When January comes, I won't be panicking. Simply pick up where you left off. Yeah, I'll have lost a bit of size, strength and confidence but so what! Two or three weeks in and I'll hopefully be back to where I was.
My journey is a constant battle to beat the bulge. I'm not an athlete and I'm not always in fantastic shape. I do however, regularly train hard, eat right and I'm relaxed about it. Since working with Slendertone, they've really helped me develop my core muscles. Three sessions a week combined with my regular fitness regime and I'm getting much better core results. Boost your confidence now by considering Slendertone. I noticed body changes and my confidence was higher after just three weeks!
Everyone is different, that's what makes the world go around and the place would be a boring one if everyone agreed and did the same things. So come Christmas time, some of you will be running on Christmas day, some of you will take a couple of weeks off, some of you will train on and off and some of you will only allow a blow out on Christmas day. None of these things are right or wrong, it's your decision at the end of the day and as long as you are confident in yourself, that's all that matters. Having said all that, I believe everyone should be active and mindful of what you eat. Just don't sit like a couch potato and do nothing!
I'm saying I'll take two weeks off but of course the dog still needs walking. We'll enjoy some lovely Winter walks as a family again this year. We've just returned from a little break at Center Parcs. It's our fourth year and the kids loved it as usual! We did loads of swimming and walking. There was only one day when the rain was too heavy, even the dog wouldn't go outside!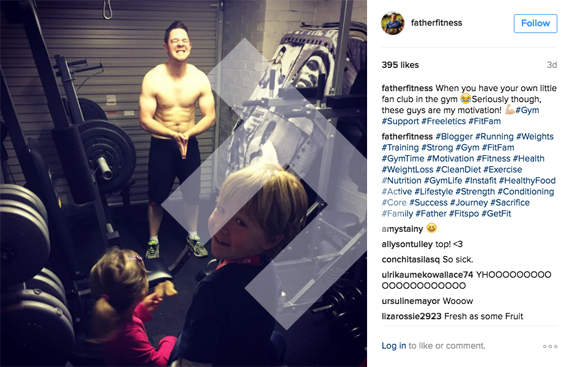 My children are the main reason I started this journey. Here they are in the gym with me last week. Apologies for the face, I am joking! I'm not 100% sure on the "fresh as some fruit" comment on my Instagram either, haha! I don't do many topless pictures, I guess I wanted to show you guys how Slendertone have helped me out in the core department. It's also worth noting that I haven't done a single sit-up for many months. My little lad has especially taken an interest in the gym with me. It's nice and he claps when I finish a particular exercise. I won't force him in but it would be excellent to have a little gym buddy in the future.
We're visiting my Mam and Dad's on Christmas day this year. We'll be having turkey, all the trimmings and I can't wait. My Mrs always wants a nice walk in the afternoon and I tend to agree. It blows the cobwebs off and gives you a nice break between a large dinner and then the few nibbles on an evening. If we didn't walk the dog I think I'd be asleep by four o'clock!
You could always try a Christmas challenge this year. I completed one successfully back in 2012 and one didn't go according to plan in 2013! Both challenges were successful in raising money and awareness for charity though. Maybe try something yourself either this year or next? It's a great way to keep in shape over Christmas and you give something back too.
If you have written this year off completely and are hoping January will kick-start your motivation. Why not start now? Get a couple of weeks under your belt before your New Years Resolution. I think this will give you perfect platform to stick to your word and motivate you throughout 2017.
Remember, we're in this together! I started this blog to motivate me so now lets help motivate each other! Please consider giving me a follow on Twitter @FatherFitness and I'll follow your journey too.
Thanks, good luck and enjoy the run up to Christmas!