This was the only organised event I had planned in 2015. Having missed 2014 and completed the previous two years, the year gap had me excited to give Total Warrior another go. The team this year was much bigger, which was great as I got the chance to meet some new fitness friends.
My training leading up to Total Warrior had been great. I felt in great condition and my nutrition had been good too. I had recently turned to Quorn in a bid to get more protein into my body with reduced fat. I also tightened up on products that were high in man-made sugar. I'd got back into running recently too as a friend had asked for my help. He was due to run his first half marathon in October so I jumped at the chance of running with him. He thinks I'm helping him but he's really helping me.
Here are a couple of photographs from this year: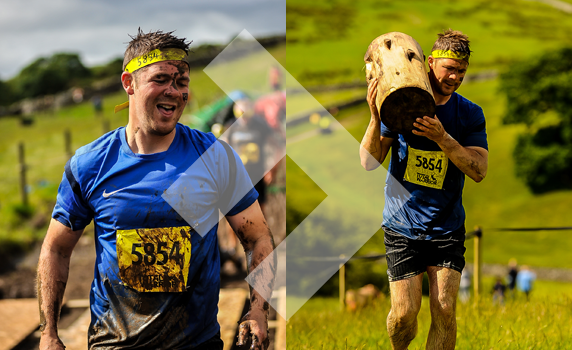 A bright and early start saw us set off to Shap. The weather had been unpredictable all week and we passed a rain storm but it soon cleared. After registration, we stretched and joined the other warriors. I was really keen to see what other obstacles they'd throw in this year and they didn't disappoint! One particular one that sticks in my mind was a wall that leant back on itself so you were climbing up it but on an angle. Upper body strength was needed on this one, unfortunately I hurt my shoulder but I quickly shook it off.
To be honest, it took me a good couple of weeks to sort myself out after this year. A mixture of age and the gruelling course had taken it's toll on me. We finished this year as a team which was very important for me. Don't ever start an event like this and not finish in the same group. Part of the fun of Total Warrior is helping each other around the course. I certainly had loads of fun this year and thanks to Total Warrior for having me again. It's always so well organised and if the opportunity arises again, I'll be back.
Currently I'm still running once or twice a week and hitting the weights a couple of times a week. I'm turning to Freeletics again shortly and I've also invested in a speedball which I'm looking forward to using.
All the best and please don't forget to connect with me via my social media channels. I'm using Instagram a lot more these days.