For the second successive year, I took part in Total Warrior and it didn't disappoint.
It was the same fantastic four, well three. I was joined by Peter, Martin and John and we made up the Turtle Warriors! I thought I was being all unique with the name until we discovered another team had the same one.
I was up bright and early as the lads picked me up just after 6. Going into this event I felt strong. Strangely not as fit as last year even though I've lost a bit of bulk and my running has really improved. Despite this I felt pretty fit, although I did have a bad neck. To cut a long story short, I tweaked it about a month ago and it just hasn't shifted. It is back to normal now though, which is great.
Dressed in our bright green kit and complete with camouflage face paint, we took to the starting line. I couldn't wait to get to started. It was cold and windy and I just wanted to get warm. The first obstacle involved a few up and down hills. I believe this sorts out the men from the boys. Basically it would create a decent gap between the really good runners, the ok runners and the stragglers. I'm not telling you which category we were in! Haha!
There were two obstacles I was really not looking forward to. The Human BBQ and Dunking Time. The Human BBQ was one of the first obstacles and it was actually easier than last years. I wasn't complaining! Last year the heat was so intense it stripped the hairs off my arms and I could hardly breath! This year it was half the length but they did introduced a nice little fire jump at the start. I'm not very good with going underwater which is why I found Dunking Time difficult. Basically you have to go completely underwater and under three individual logs. This year I also found it difficult to get my breathing back to normal, it was all over the place.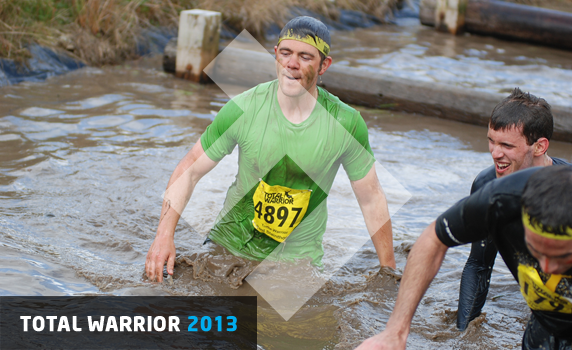 I was pleased to see that most of the obstacles had either been moved around, tweaked or updated. This made it just as good as last years. I thought that overall, it was slightly easier than last years. I think it's a combination of me being fitter and I think some of the obstacles were slighter easier too. The organisation was yet again, absolutely fantastic. I cannot rate Total Warrior highly enough.
As in 2012, we didn't really care about our times. We just wanted to finish the event and finish it with a team of four. This year was no exception and we even managed to shave nearly ten minutes off our time! I'll be totally honest with you here, I believe we could have knocked off a further four or five minutes too. My neck was obviously holding the team up and I also managed to twist my ankle after the Human BBQ (one of the first obstacles!). It did get stronger as the event went on but I felt terrible as I was the one that was lagging behind. I'd like to thank the lads again for sticking with me and encouraging me to finish.
There were 380 teams that took part in Total Warrior this year and we came 32nd. There were a total of 4095 warriors and we came 482nd. Happy? Absolutely! I couldn't believe it. This was the cherry on top of an already delicious cake.
Thanks to the lads for doing Total Warrior with me again this year, I had an absolute blast. Thanks also to my fantastic family for supporting me on the day, it really makes a difference knowing they'll be at the finishing line.
Next year we'll try and think of a totally unique name and we're thinking of entering the ten miler. Watch this space!