I'd say just about everyone knows one or two benefits to consuming fish oils. They boost heart, brain and joint health and they also prevent cancer, eye disease and bone problems.
I recently reviewed some Ultra Pure Omega 3 Fish Oil Capsules from Intelligent Labs. Delivery was super quick which I guess is what you expect these days. The tub contained 120 capsules which would last around 40 days (working on the recommended three capsules per day). The capsules themselves were quite large, I have a small small (I know that's hard to believe) so I always struggle to swallow large tablets. I managed these fine though, it wasn't an issue for me and the capsules had zero smell. Some supplement tablets I've had in the past have had a horrible smell, these ones didn't.
Benefits of fish oils
Fish oils in general are a type of polyunsaturated fat or what health experts call a 'healthy' fat. Unlike saturated animal fats, they don't raise your cholesterol levels and are known to have a positive effect on health. There have been a number of studies suggesting fish oils boost heart health. A study published in the Journal Of The American College Of Cardiology showed omega-3 oils help to prevent blood clotting and regulate or lower blood pressure.
Fish oils are also said to have a positive effect on the brain, both in preventing disease and boosting brain power. Studies have shown that DHA can reduce the formation of plaques in the brain, these have been linked to Alzheimer's disease and dementia. Each Intelligent Labs serving has a huge 1224mg of EPA and 816mg of DHA. You will not find this strength of Omega 3 anywhere else.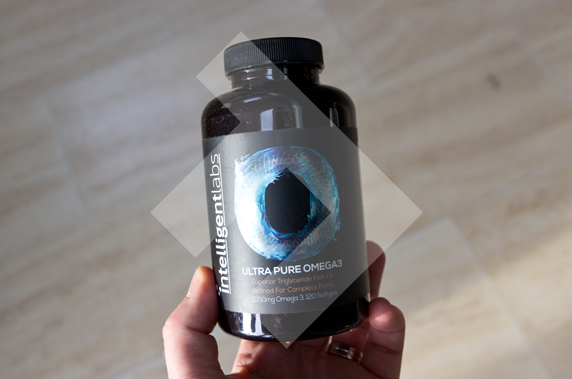 My Mam always used to say consuming fish oils will make you look younger. Was it an old Wife's tale or was she telling the truth? Well researchers from the University of California suggested omega-3s (from supplements or food) helped cells live longer in the body. When they studied heart disease patients, they found the more omega-3 the subjects ate, the slower the damage to the DNA in their cells. This means better protection against inflammation and the ageing process. So I guess my Mam was right all along!
The best food supply of omega-3s is oily fish such as mackerel, salmon and tuna. A survey of more than 3,000 British consumers by NutraSea found 40% of people never cook fish. If you have a Mrs that doesn't like you cooking smelly fish in the kitchen then you can't go wrong with these capsules from Intelligent Labs. Quick delivery, great price and all from a "Friends of the Sea" certified supplier. Which means they use wild caught fish from the pristine waters of the Antarctic and there are absolutely no artificial additives. Intelligent Labs also offers Probiotics and Glucosamine. They've kindly given a 20% discount code for you all to take advantage of. Simply use 'PAUL20′ once you're at the checkout.

*Disclaimer: This was a collaborative post with Intelligent Labs and I was given the Ultra Pure Omega 3 Fish Oil Capsules in order to give an honest review. All words and opinions are my own.