We were absolutely delighted to be invited to Diggerland, Durham to see their new Little Tikes area and spend the day exploring the park.
As we pulled up in the car park the kids were already super excited because they could see all of the huge diggers through the fence. We were less excited as we looked at the temperature gauge to see 15 degrees so quickly all changed out of our summer shorts into jeans, haha! We only live a short distance away but as we climbed that hill into Langley Park we definitely lost a couple of degrees. Ah the great British summer!
At first glance Diggerland was much smaller than I was expecting however don't be put off as there are so many different rides and activities within that space so it really is deceptive as to how much is actually there.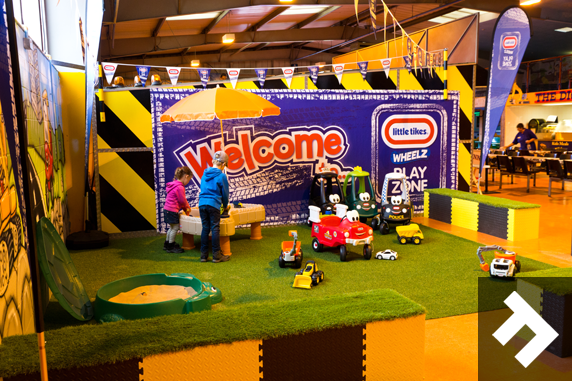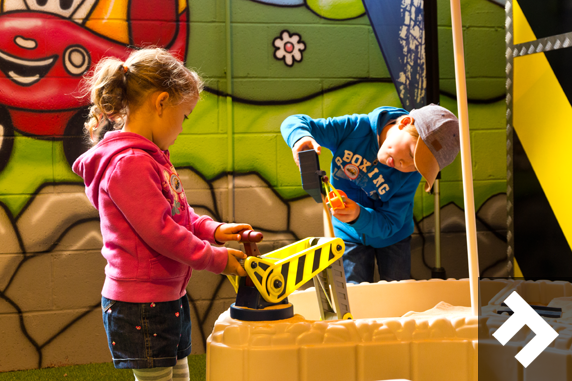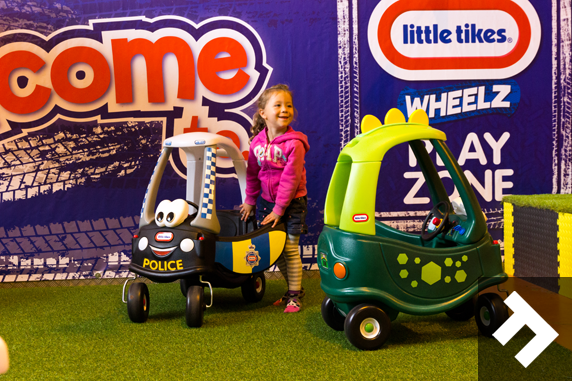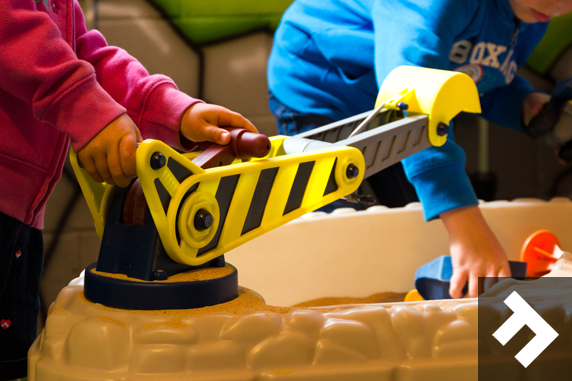 On arrival we went straight through to the Little Tikes area which looks great. The walls have been painted with a brightly coloured mural and there's artificial grass seating round the edges of the play area, perfect to perch on while the kids play. With a taxi, dino truck, police car and a fire engine, Emma was spoilt for choice. Whilst Adam would love to still fit in a cosy coupe, unfortunately at 7 there's no chance. However, even he wasn't too old to enjoy the sandpit and toy diggers.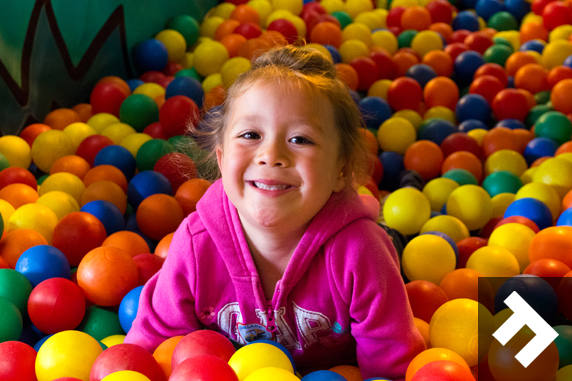 Close by was also two play houses and a large soft play area with a bouncy castle, ball pool and lots of foam cushions to climb. The beauty of this area will definitely be a winner for parents with children of differing ages. It can sometimes be tricky to keep your toddler and older child entertained at the same time. The older one gets bored in the 'baby' areas and the little one is too young to play on the bigger toys. This area solves that issue as there's something to keep everyone happy. Even a coffee shop for the grown ups!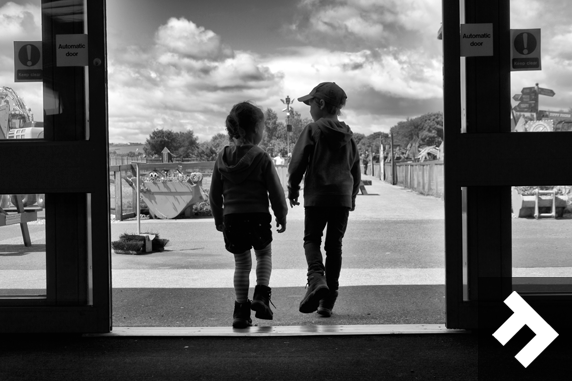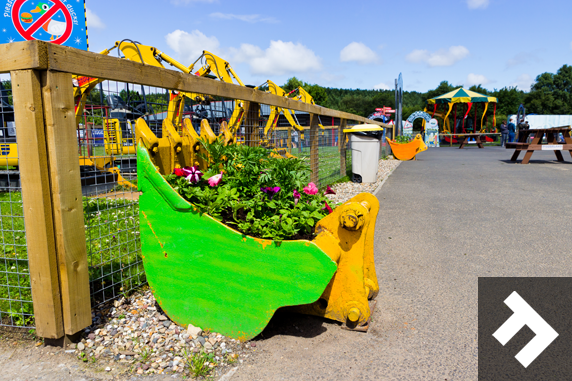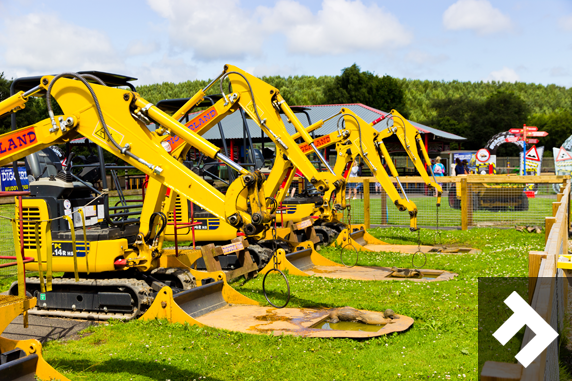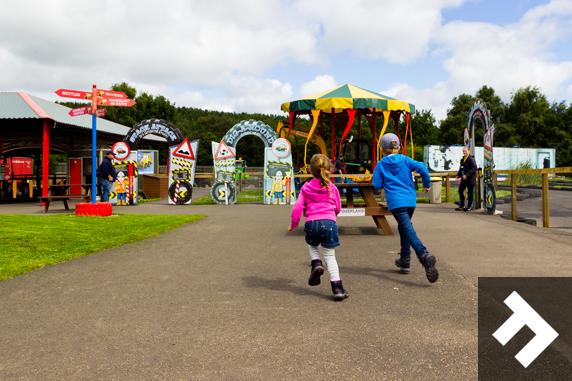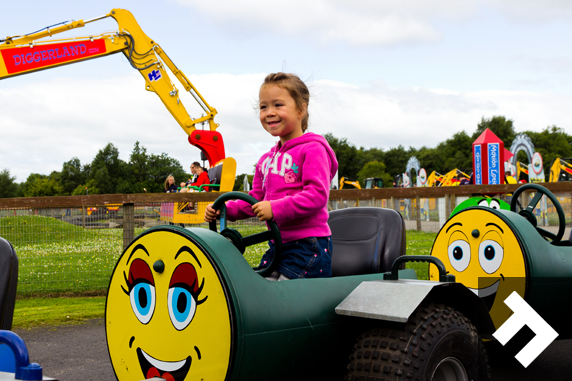 When we eventually managed to drag the kids away from the soft play we headed straight outside to see what we should try next. First stop was the Diggerland Train, which was a tractor that pulled along little one seater cars behind it. The kids jumped in and even Mutha Fitness managed to fit into one, haha! I decided not to even try and sat in the tractor with the driver instead. This was a nice little ride around the park giving us the opportunity to see what we would go on next. The kids were literally running between things to do. It was pretty cute to watch their utter excitement. They chose to go on Dig-a-Round which was a digger with a merry go round roof and swing seats attached. Perfect for those little thrill seekers because it went just fast enough to make them giggle.
We headed to the Giant Diggers and Adam was tall enough to operate one on his own, wow! Emma was just a little bit under the 110cm height restriction so she needed to sit on my knee which I didn't mind at all because I absolutely wanted to have a go at this one. It was pretty funny how tricky it is to get the controls right, it requires good coordination which in terms of motor skills was brilliant for the kids. I knew we'd be returning for another go on this because we all loved it.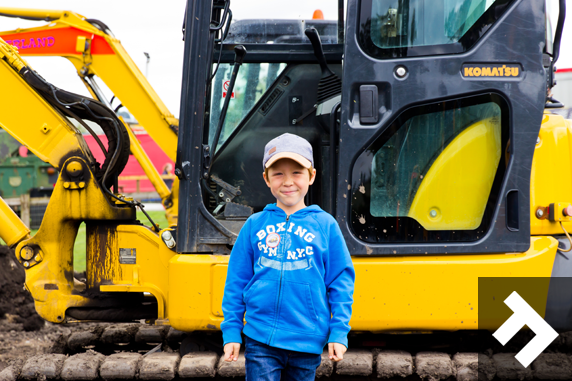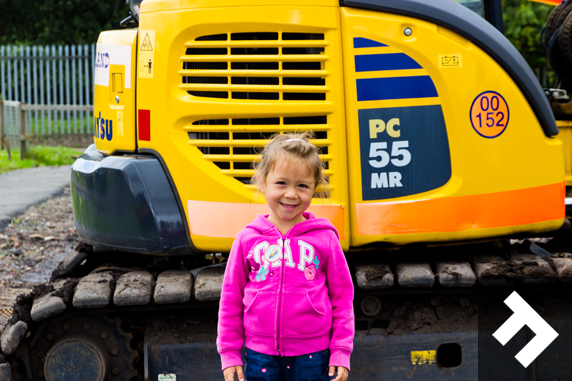 Now that we were expert digger drivers we were fully equipped to head to Dippy Ducks, Digging for Treasure and Skittles. All three activities are next to each other. The first was possibly one of the most frustrating things I've ever tried. I couldn't stop laughing at how hard it was and yet my 7 year old son seemed to be managing just fine, much to his delight! You had to control the arm on the digger which had a loop attached at the end and basically hook the metal ducks from the pond underneath. This requires some serious accuracy. Digging for treasure was more of a scooping activity where there were lumps of metal treasure hidden within the gravel and you had to sift through and move them to one side. This was one of my favourite activities. Lastly we tried Skittles which was similar to Dippy Ducks in that it required a level of accuracy to swing the arm of the digger which had a ball attached and knock the skittles down.
We had a quick pit stop for lunch. Not sure we've ever eaten as quickly, the kids were so desperate to get back outside and go on more things. Diggerland has a large cafe area and I have to say the food looked and smelled delicious. We always go on day trips well prepared so had snacks and packed lunches with us. There are loads of picnic benches outside and a large indoor area for picnics too. Perfect, we love it when you're welcome to eat your own food and not stuck right out of the way. Days out can be expensive and not everyone can afford to eat out as well. Top tip on ticket pricing. First look might have you gasping and thinking Diggerland is too expensive for your family. I can fully understand why it's not the cheapest place to visit though as there has been no scrimping on number of staff so they are clearly very safety conscious and the machines must cost a fortune to run. Look around for deals as there are always discount vouchers available online or in flyers and special deals to be had. Pre-booking your tickets will also save you some pennies.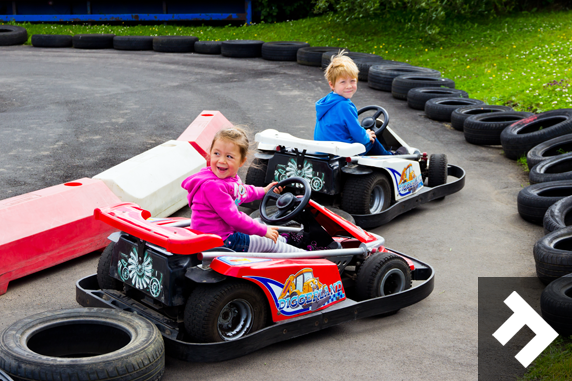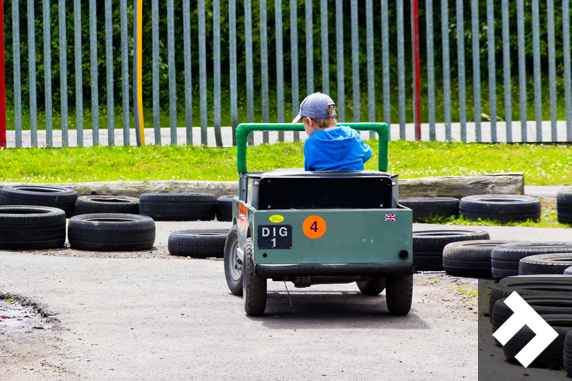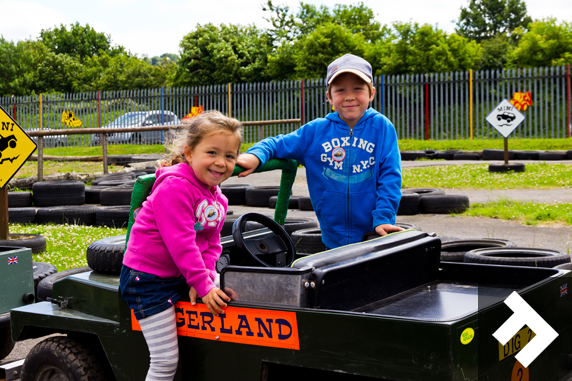 Our afternoon was mainly spent on the rides. We started with the Go Karts which was good fun and moved onto the Mini Land Rovers. The great thing about these two rides was that Emma was tall enough to drive her own vehicle. We then headed right to the back of the park where we found the Ground Shuttle. The front row is the bumpiest, the middle is bumpy and the back row is not so bumpy. Where did the kids head? The front row of course! There are seats built into the scoop of the digger and you are lifted around 12 feet into the air then driven around a muddy uneven area. Lots of giggles on this ride. We hopped straight off this and joined the Safari Experience where we were driven around dirt tracks in a Mitsubishi, looking for 'animals' which were hidden in the trees. There was something quite authentic about sitting in a really muddy 4×4 and being driven over really bumpy roads. Forgot we were in Durham for a minute.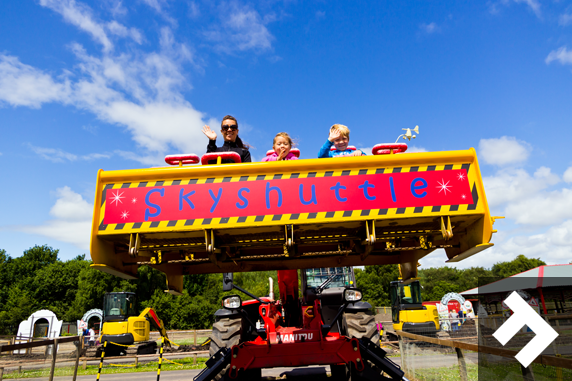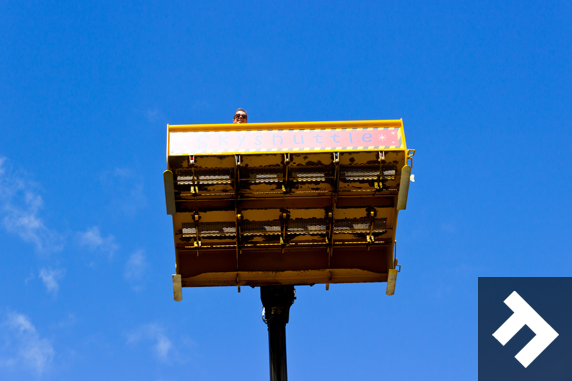 The kids were getting pretty brave by this stage of the day and off we went to try Sky Shuttle. What on earth was I thinking going on this? I'm not a fan of heights and seriously the platform that we were sitting in just kept getting higher and higher. My head just got lower and lower and the kids and my unsympathetic wife's laughter just got louder and louder. I think she was actually crying she was laughing at me that much. We sat up there ages before we were brought back down to 'safety', haha! I might not have been keen on this ride but the kids loved it and so they all went back on again. I took photographs that time with my feet firmly on the ground.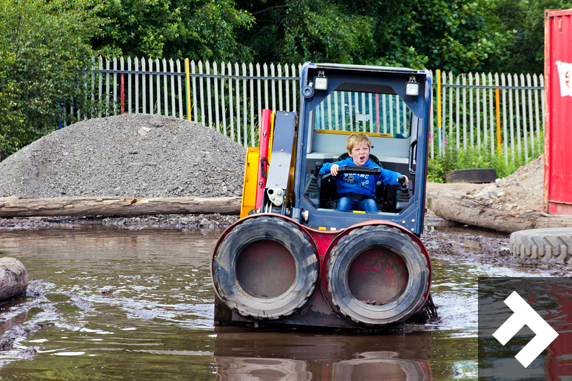 We finished off the day with a ride on the Dumper Trucks where Adam was able to operate his own vehicle and Emma sat on Amy's lap. The wet weather the few days before our visit definitely added to the thrill of driving these trucks as they swirled around through huge muddy puddles. What kid wouldn't love that? Here are some expressions which I think sum up a really great day…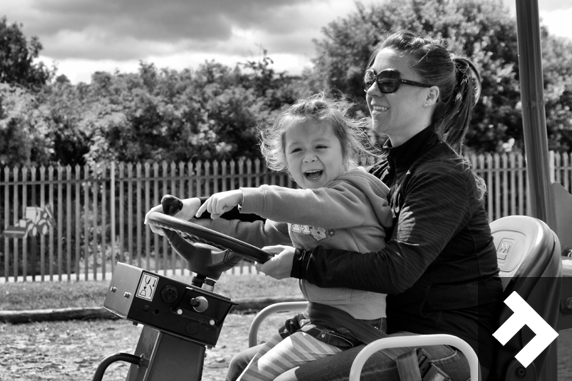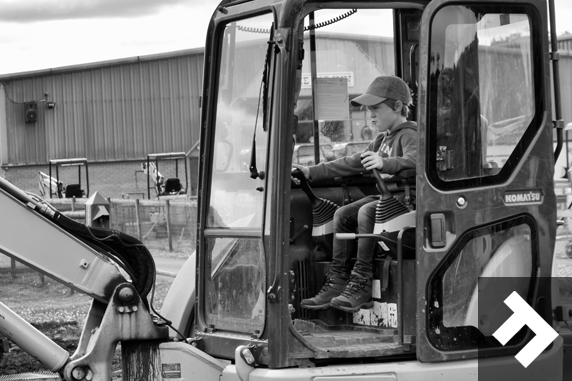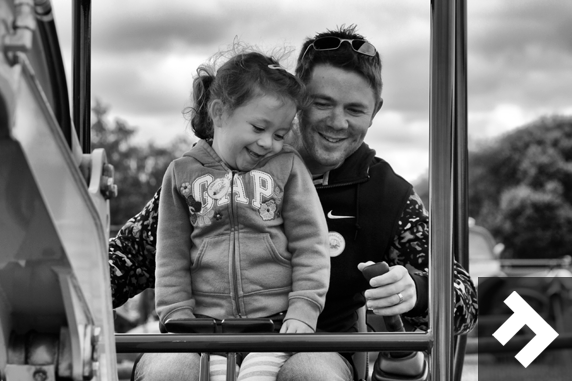 The staff at the park were all so friendly and absolutely great with the kids. Every ride and activity was explained to them and a helping hand was always there if needed. They were enthusiastic and looked like they really loved working at Diggerland which was so nice to see. We arrived at 10am for the park opening and didn't leave until 4pm so you really can easily fill a full day there. A big thank you to Mark, the General Manager and Jen, the Park Manager who gave us a warm welcome to Diggerland, Durham. A fantastic day was had by all and we will definitely return.

*Disclaimer: This was a collaborative post with Diggerland UK and I was given free entry in order to give an honest review. All words and opinions are my own.