I recently completed a 12 week Freeletics challenge and I have to say it's one of the best decisions I've ever made. Please read on to find out how and why.
My fitness journey began back in 2010/2011. Since then my weight has been pretty steady and my overall strength and conditioning has dramatically improved. I'm not going to lie, my physical conditioning has been up and down, due to having blow outs at Christmas and over other holiday periods. I'm not a professional, or an expert and nor will I ever be. My fitness journey is a realistic one of a first-time father, regaining his fitness. I have weekly struggles like everyone else to find the time to train, to not go out with friends and drink alcohol and to not eat my kids left-overs of chicken nuggets and curly fries. I do all of the above by the way and much more! I guess what I'm trying to say is that my body is never a temple. I do train for health and fitness and it's more of train to how I feel, rather than train to how I look.
Freeletics has given me the physical results as well as the mental results. Just for the record, I'm not into getting my nipples out on the internet. If you guys follow me on Instagram, Twitter or Facebook, you'll know this is probably only the second time I've ever done this. I do find it embarrassing but the picture above were important to this programme and my journey. How would anyone really believe me if I didn't show the evidence. I'm not ripped by any means but you can see a base starting to form and my abs are beginning to take shape. The camera doesn't lie and although Freeletics has been one of the hardest things I've ever done, it's been one of the most rewarding too.
Facts and Figures
I took some measurements before I started and I'm pretty pleased with the results. The most impressive thing I'd say are the inches lost off my legs. I've always been bottom heavy (I'll never be a good runner!). I gained size in areas that I'd class are good like arms and chest. The other thing to note is that my weight stayed roughly the same.
Backside – From 102cm to 100cm (-2cm lost)
Arms – From 35cm to 37cm (+2cm gained)
Thighs – From 58cm to 56cm (-2cm lost)
Calf - From 40cm to 39cm (-1cm lost)
Waist - From 84cm to 82cm (-2cm lost)
Chest - From 100cm to 102cm (+2cm gained)
Hips - From 90cm to 88cm (-2cm lost)
Weight - From 11st 12lb  to 11st 11lb (-1lb lost)
BMI - From 24.5 (Healthy Weight) to 24.3 (Healthy Weight)
Body Fat Percentage – From 19.8% (Good) to 16.0% (Excellent)
I've really enjoyed doing Freeletics. I know it's big in Europe, especially Germany so it was great to be asked to complete this on behalf of the UK. I'd taken at least three weeks off before starting the challenge so I was fresh. When I think back to the fitness test and my very first workout, it's amazing to see how far I've come.
The Future
So what does the future hold and will I continue to do Freeletics? 100% yes! I've already signed up to a full years subscription. It only cost me around £50-£60 for the full year. The app is fantastic. You tell your coach how many times you want to train a week (I did three) and they select workouts depending on what type of exercises you chose – strength or cardio. I've missed my weight training and boxing so I'd like to complete at least two Freeletics sessions a week followed by one or two weight training sessions a week. I'll see how things develop.
One thing I'm definitely going to tighten up is my nutrition. The image above is from hard work in the gym. I didn't really change my diet or my alcohol intake! This isn't big or clever and in fact I was probably un-doing a lot of the hard work in the gym. In other words, the picture above would have looked much better if I had followed the nutrition plan from Freeletics.
I've even got my Wife doing little bits of Freeletics. She's not quite ready to go out and do a full workout yet so she's been doing three sets of squats, pushups and lunges for now. She seems to like doing them so watch this space!
Conclusions
If you're thinking about doing Freeletics yourself, I'd definitely recommend it. Let me know if you sign up too and we can support each on the app and via social media. Motivation comes in many forms and for me, I find a tweet or an Instagram comment does the world of good. Freeletics is a high intensity workout so it's tough. Don't expect to get a six pack overnight and don't think for a second it's a walk in the park. Freeletics will take you to a place you've never been before, push you to your absolute limits. The ball's firmly in your court and the results are up to you. Do you accept the 12 week Freeletics challenge or not?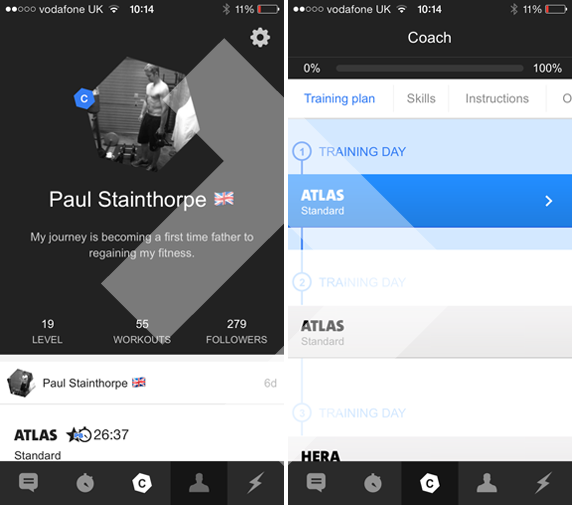 Here's a little Freeletics motivational video to get your blood pumping. I now know what this video is all about. I collapsed on my face and wanted to give up but I never did. I kept going, pushing through the barrier and I completed everything I was asked to do. If I can do it, you can do it too!
So what are you waiting for? Lets go!