We've had some great family meals over the past few weeks and I wanted to share a couple of them with you today. A healthy protein source, ingredients and recipes all using Quorn.
For those looking to eat healthily, ensuring protein is incorporated into everyday meals can help achieve a nutritionally-balanced diet and high energy levels though the day. Quorn products have high protein levels and are low in saturated fats. Products like Quorn mince and sausages are nutritionally healthy sources of protein, so they're ideal for people that lead a fit and active lifestyle, while enjoying great tasting, nutritious meals.
Here are two meals we cooked up and they were lovely, even the kids agreed!
Sticky Sausage Skewers
Serves: 2-3 people. Preparation time: Ten minutes. Cooking time: 20 minutes.
Ingredients: 1 pack of Quorn sausages, mango chutney, skewer sticks, olive oil, lemon juice, wholegrain mustard, peppers, onion, tomatoes and mushrooms.
Nutrition: 244 calories, 15g protein, 26g carbs (20g sugar), 7g fat (1 sat fat), 5g fibre and 1g salt.
Method: Preheat oven. Mix mango chutney, olive oil, lemon juice and mustard together in a bowl. Cut the sausages into bite sized pieces and coat with the mustard mix. Thread the vegetable pieces onto the skewers, alternating with the sausage. Bake for around 20 minutes, turning frequently. This recipe is also great for BBQ's to I can't wait to try this, once the weather improves obviously!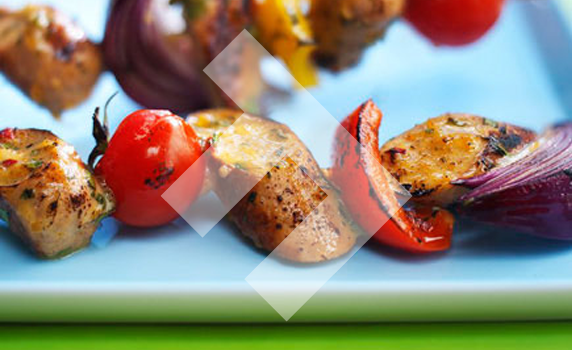 Chilli Con Quorn
Serves: 4 people. Preparation time: 15 minutes. Cooking time: 25 minutes.
Ingredients: Quorn mince, oil, onion, garlic, cumin, chilli, bay leaves, tomatoes, vegetable stock, green pepper, kidney beans, cornflour and water.
Nutrition: 376 calories, 20g protein, 20g carbs (8g sugar), 13g fat (2 sat fat), 13g fibre and 1g salt.
Method: Heat oil in a large frying pan for onions, garlic, bay leaves, all spices and the mince. Add tomatoes, stock and pepper. Simmer for ten minutes, stirring occasionally. Stir in kidney beans and cook for further five minutes. Mix in corn flour with water to thicken. Cook gently for a further five minutes. Remove bay leaves and discard. Serve the chilli on top of rice, nachos or a jacket potato.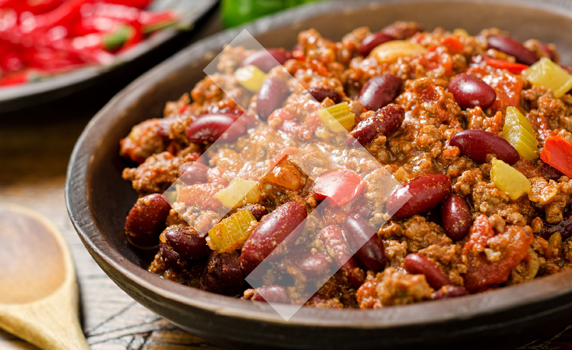 Quorn certainly packs a healthy punch. Serve up your own knockout meal now!