I was recently asked (along with Mutha Fitness) to join Wayne Leal at Champneys Tring Resort. We were asked to review the spa as well as complete Wayne's JumpGa and Kun-Aqua programmes.
We obviously jumped at the chance! I did a bit of research into Wayne as I don't like to just turn up to these things and not be prepared. Speaking of being prepared, I only had 4/5 days to prepare. As I'm not in great shape all year round and I wanted to be in reasonable shape – I blasted the gym, went running and watched what I ate for a few days. I'll write another blog post on exactly what I did as some of you may find it interesting.
Wayne Leal
A quick Google search brought up some info on Wayne. He's a mind and body educator and author of 'Body to Live For.' I then discovered he trained Darren Barker for his World title fight with Daniel Geale. As I big boxing fan, I remember this fight well. I can remember an interview on TV because Wayne and Darren swapped out traditional boxing training with Yoga and underwater work. Most people dismissed his chances of winning the title, they even laughed at his training methods but when Darren lifted that belt, heads certainly turned. I was really looking forward to meeting Wayne and talking about his work.
Champneys Spa
We've never been to Champneys Tring Resort before so Amy and I were really looking forward to visiting. Around the two programmes we were hoping to relax and we certainly did that!
Champneys is the original health spa dating back to 1925. It was first opened as a nature cure resort by Stanley Lief, the pioneer of holistic wellbeing.
The water feature upon arrival was really impressive. Amy said it didn't help her though as after a five hour car journey she pretty desperate for the toilet, haha! She still managed to put on a brave face and pose for a photo though…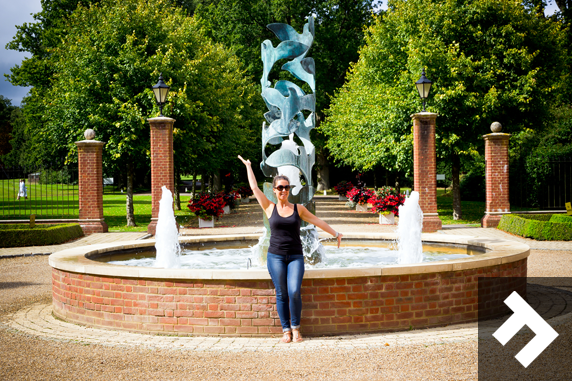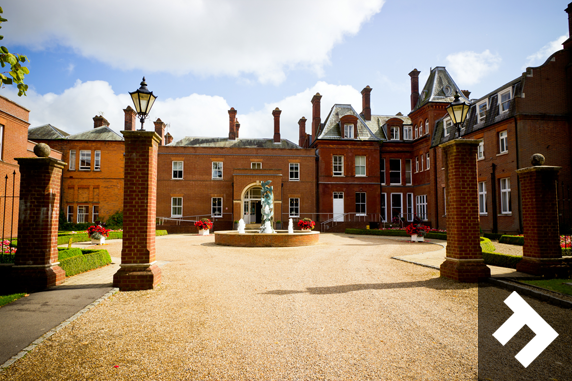 Check-in was really smooth and we were handed a welcome pack along with our Champneys flip flops, which we got to keep! We then headed to our room, where we immediately changed into our swimsuits and Champneys robe. You really are in a relaxed atmosphere at Champneys as you can even dine for breakfast and lunch wearing your robe.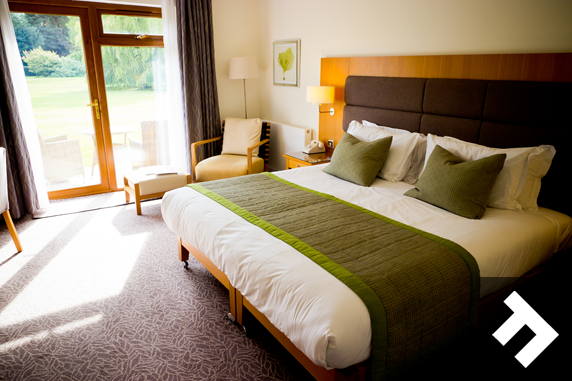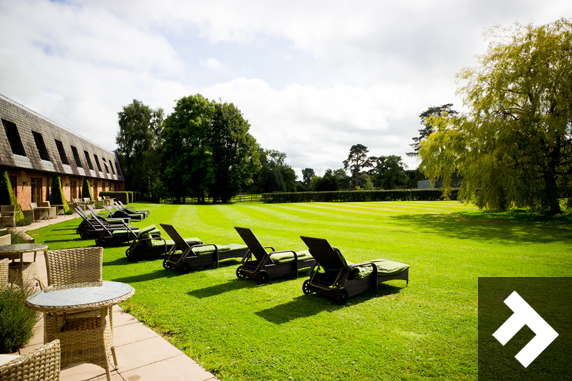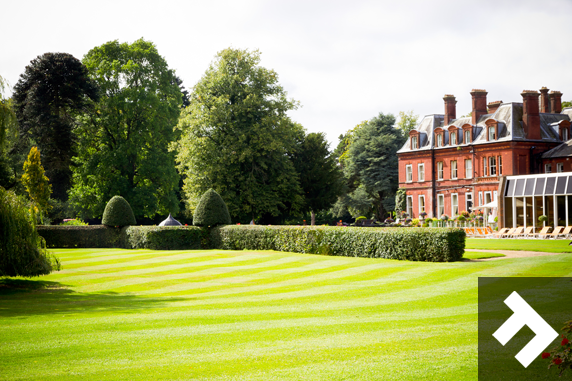 Our room over-looked the gardens and it was simply stunning. We were keen to explore so we headed straight out!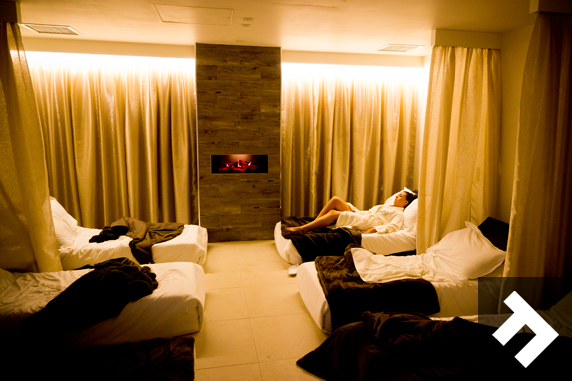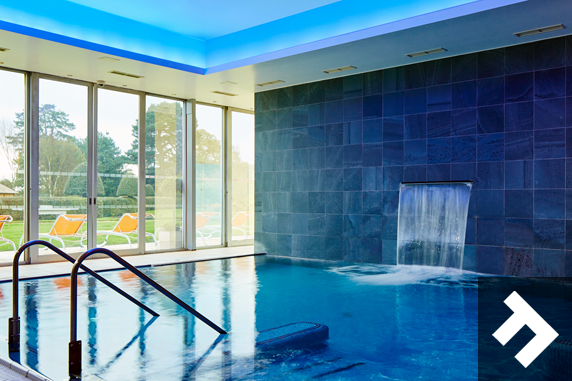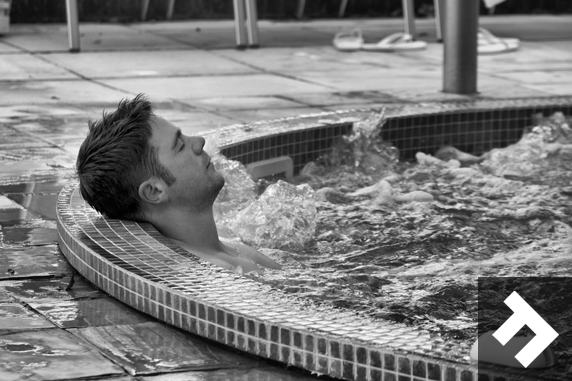 We sampled the relaxation room, outdoor and indoor Jacuzzi. Sauna, steam room and indoor pool. There weren't many people around so we could really relax and get some pictures too.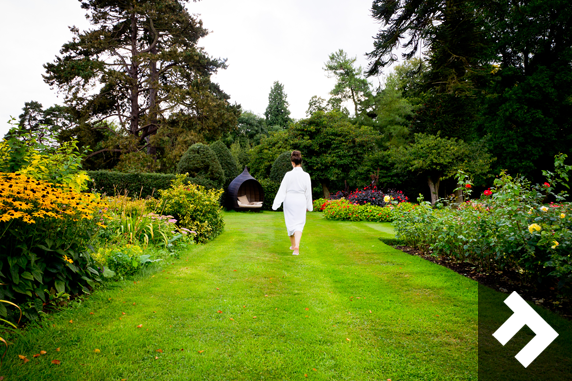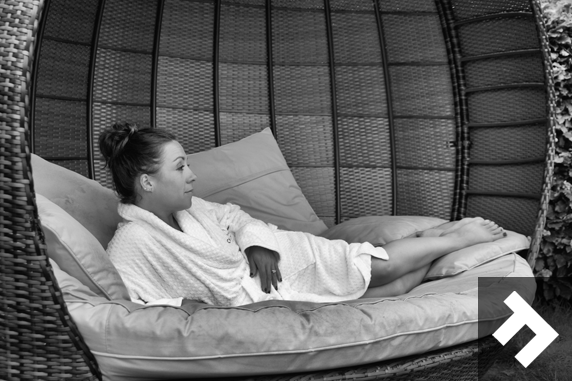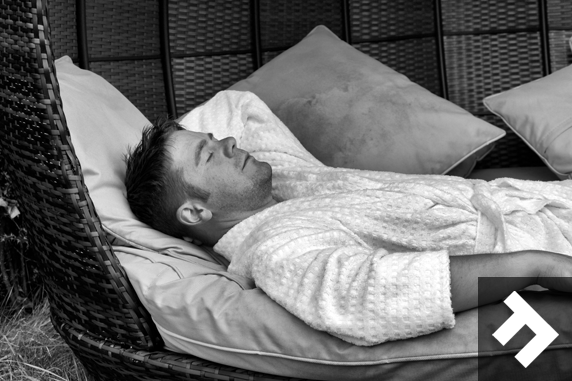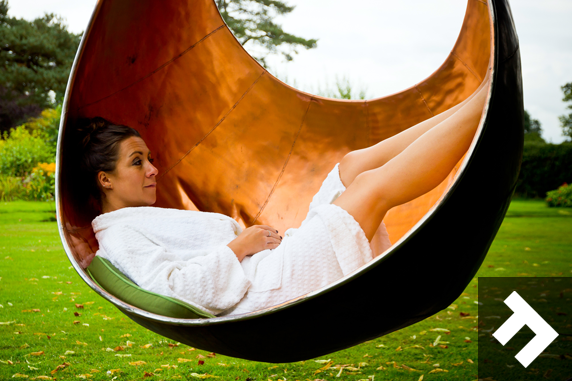 We also headed out and relaxed in the gardens, which was really beautiful. Amy loved the swing! Everything was really clean, staff members had smiles on their faces and said hello, we felt really welcomed.
After a shower and a change we sat outside before heading to meet Wayne. To be totally honest with you, I was pretty nervous and excited at the same time. Meeting Wayne was a big deal to me because he's such a well respected guy in the industry. Let's just say, meeting him didn't disappoint! He's so down to earth and the practices he teaches, you can feel his enthusiasm. He genuinely wants to help people. I instantly warmed to Wayne and I really can't wait to see how our friendship develops.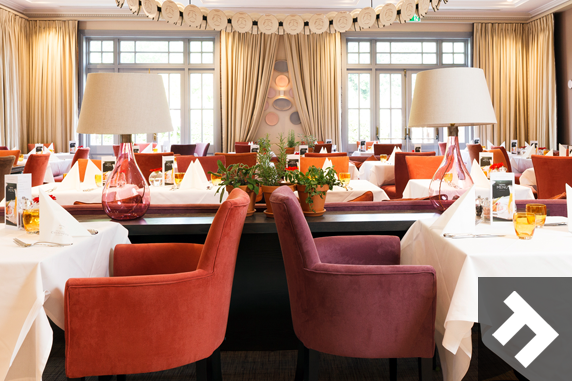 Amy and I both had the fillet steak, which was delicious! After dinner we attended Wayne's well being talk and it gave us both chance to learn more about him and his two programmes. The talk, like our chat over dinner, was from the heart. You can almost feel Wayne's emotions when he speaks. Wayne's mother suffered in her final years due to ill health so because of this, he created JumpGa and Kun-Aqua.
We learnt that Wayne has also had to overcome invasive surgery and the injuring of pretty much every major joint in his body. He see's exercise as a physical metaphor that teaches you to look at yourself from the inside out, rather than the outside in. I wish I could've seen my face when he announced his age was 59, haha!
His two programmes are the basis of 'Four Elements Holistic Training.' Water (Kun-Aqua), air and earth (JumpGa). The fourth element, fire, manifests itself in the form of improved body image, self-esteem, and confidence. The training is a combination of moderate and high intensity activity that goes far beyond mere athletic performance. It addresses power, focus, strength, flexibility and balance. It's low impact, making it suitable for all ages.
KUNAQUA
A 6am rise and we headed to the pool. I was knackered but really excited! We were greeted with a smile and a "welcome to my office" from Wayne, haha! Kun-Aqua was a really interesting concept.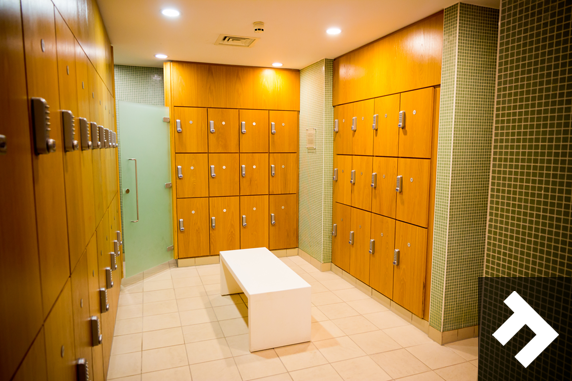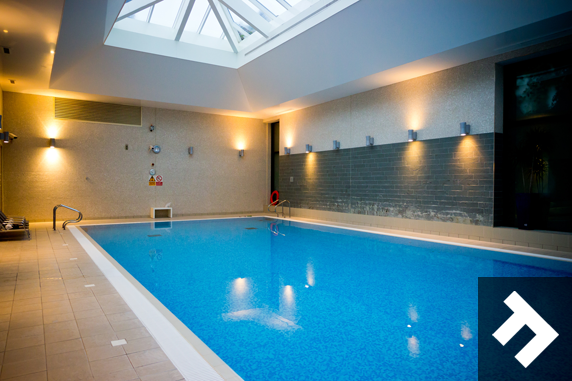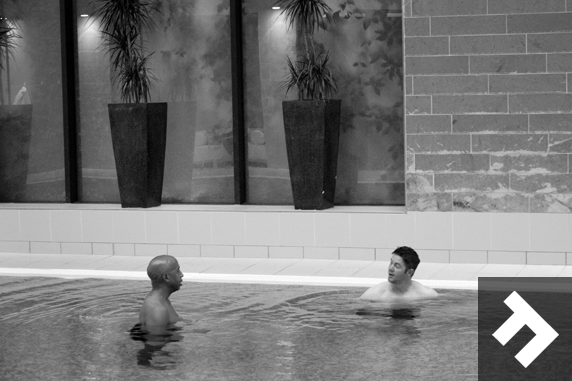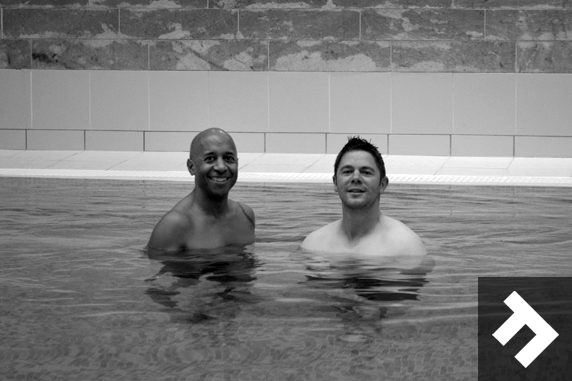 We managed to setup one of our phones on a tripod and capture a time lapse of the session. I appreciate it may look easy watching this but it really wasn't!
The pool was the same depth and at 5 foot 9 inches, it was pretty much shoulder height. Have you ever tried just walking in water? Stabilise your core to support your back and try it. It's harder than it looks! I wanted to lunge forward so Wayne kept correcting me. We performed multiple walking styles from normal, to zig-zag to same arm and leg – this is called 'Namba' in Japan. All of them were pretty challenging especially when you had people swimming past you as it knocked you off balance.
We then performed some exercises in the water like uppercuts, lateral raises and flys. Then we did some leg work. Kun-Aqua uses water resistance in both directions. Take a dumbbell curl for example – you lift the weight up and then back down. Underwater, you are fighting against the water with both movements. Underwater you are much lighter so people of all ages and sizes can perform Kun-Aqua. It's light impact too so it's easier on your joints. We all know swimming is good for you but with swimming you are gliding across the water and not fighting your way through it. It really is a great concept.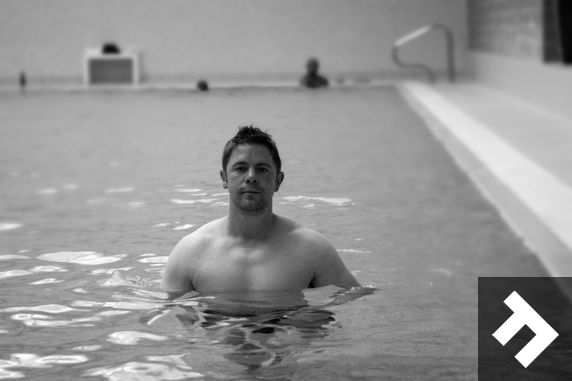 Amy and I chatted after the class as we'd like to continue doing this. Our only problem is that we would struggle to find a pool with the same depth – most of our local pools go from shallow to deep. We could of course walk width ways in the shallow end but not if other people were in the pool at the same time. We are going to enquire into a few local hotels to see if they have a suitable pool. If we can find one, we'll be straight down to perform Kun-Aqua!
JumpGa
After a light breakfast (I chose mainly fruit), we headed to studio 2 to take part in a JumpGa class. Taken by Natalie, we really didn't know what to expect! The class was pretty much full and I was delighted to see a mixture of ages and genders.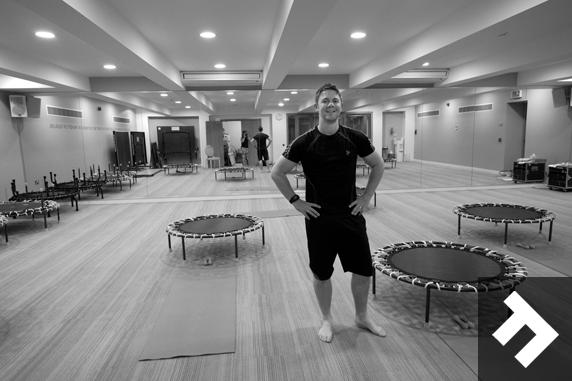 JumpGa combines 'jumping' on a trampoline (or rebounder) with 'yoga,' hence the Jump-Ga. Using the trampoline takes up to 80% off the stress of your weight-bearing joints. Here are a few more advantages…
Increases oxygen capacity
Stimulates your metabolism
Increases oxygen circulation to tissues
Improves your sense of balance
Strengthens the heart
Firms and tones your muscles
The first half of the class was high intensity and we combined the rebounder and dumbbells at the same time. We used a variety of movements at different speeds and it was really tough! I'm not going to lie, I ducked out of a couple of the 'tantrums.' These were a squat like jump as fast as you could for 10 seconds. It was a killer!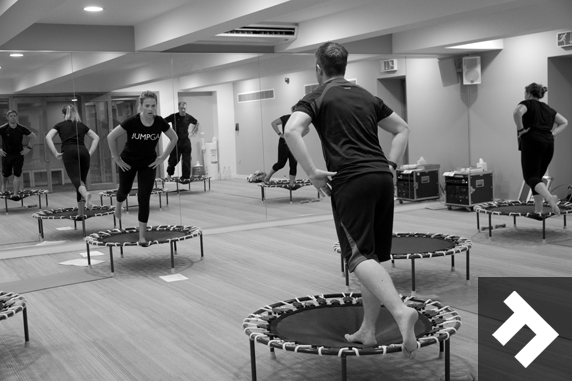 The second part of the class was more yoga based, still using the rebounder. Wayne joined us for this part and impressed us all with his strength and balance. If any of you haven't tried yoga, it's harder than it looks!
Here's another time lapse video I managed to capture and I love the fact you can see Amy activating her TomTom sports watch at the start.
I really enjoyed the class. It was something different and definitely something I'd try again. I agree with all of the benefits listed above. I'd also add that it helps you smile, laugh and have great fun at the same time. Research suggests you'll stick at exercise you enjoy and JumpGa certainly did that.
Here I am with Wayne and Natalie…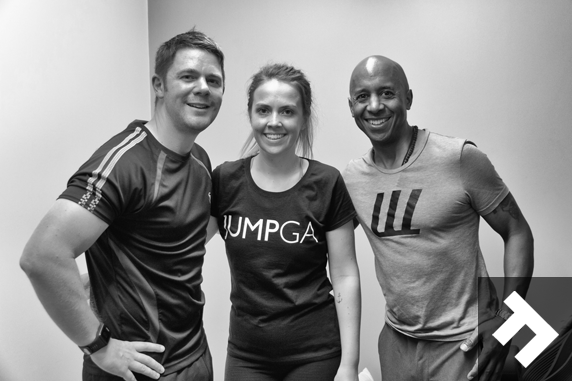 After our JumpGa class we headed for a Detox treatment. After initially being told to wait in a certain area, we arrived late – we felt terrible for being late but it wasn't our fault! Nothing was going to spoil our treatment though so we enjoyed a foot spar, an infra red sauna and a seaweed wrap – that was an interesting experience, haha!
We really enjoyed it and after a quick shower, we headed to meet Wayne for lunch. Upon arrival Wayne asked us to come and meet someone. I couldn't believe my eyes when I realised it was Frank Bruno! I mentioned earlier I am a big boxing fan so shaking Frank's hand was an absolute honour.
Lunch was just as gorgous as dinner the previous night. You could tell a lot of research has gone into the food selection at Champneys. The choice of hot and cold food was fresh and it really focused on healthy grains and low fat, low sugar options. The dining area was very clean and everything was presented beautifully. We both really enjoyed the food we had at Champneys just as much as the relaxation.
It was nice to have a de-brief with Wayne before we headed home.
The Future
We both had such an amazing time at Champneys Tring Resort and we'd love to go back. I'm definitely going to keep in touch with Wayne too, I think we hit it off. I'm also going to help him develop his blog in the future so watch this space!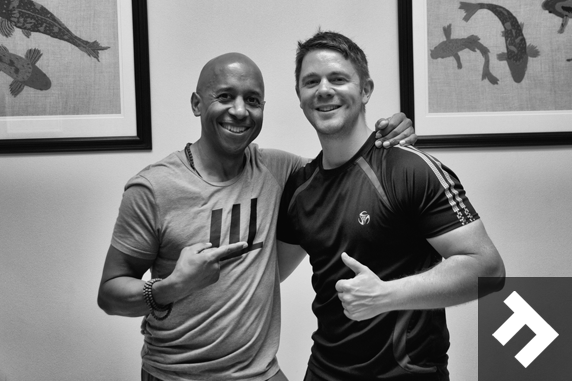 If you aren't aware of Kun-Aqua or JumpGa yet, you soon will. These programmes are already making their way into gyms and I stand by them. I'm at an age (38) where my metabolism has slowed right down, I find it difficult to find the time to train and little niggling injuries seem to take an age to go away. I've spoken in the past about treating your body with respect and Wayne's concept of creating a body to live for, echoes this. Exercise shouldn't just work up a sweat, it should be safe, go easy on the joints and enjoyable. Kun-Aqua and JumpGa did all of those things.

*Disclaimer: This was a collaborative post with Champneys Tring Resort and Wayne Leal. All words and opinions are my own.